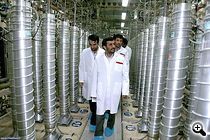 Iranian President Mahmoud Ahmadinejad makes a public visit in April 2008 to Natanz - a secretive desert facility - where he viewed P-1 centrifuges, used in enriching uranium. (Photo: Iranian President Press Office)As diplomats from major world powers prepare to sit down with Iranian officials on February 26 in Kazakhstan's commercial capital, Almaty, Tehran is sending conflicting signals about its nuclear intentions.
An International Atomic Energy Agency report leaked to the media February 21 found that Iran has slowed the buildup of its stockpile of 20-percent enriched uranium, but has also started installing advanced low-enrichment machines at its nuclear facility in Natanz. That move would potentially allow Iran to accelerate its nuclear program. The US State Department described it as "yet another provocative step."
Against this backdrop, diplomats will strive in Almaty to break an existing deadlock on the Iranian nuclear issue. Iran will be negotiating with a six-nation group chaired by EU foreign policy chief Catherine Ashton called P5+1, consisting of the five permanent members of the UN Security Council – the United States, China, Russia, Britain and France – plus Germany. Iranian leaders insist the country's nuclear program is oriented toward civilian applications, while the international community fears Tehran is intent on developing nuclear weapons.
Speaking at the United Nations on February 13, Ashton urged Tehran to show "flexibility" in Almaty. Iran's UN mission hit back with a statement, quoted by news agencies that said "exerting pressure on Iran will definitely derail the efforts on the diplomatic track." The statement urged "a cooperative, constructive and positive spirit" at the first talks on its nuclear program in eight months.
Experts view chances of a breakthrough occurring in Almaty as slim. "Prospects remain poor for a breakthrough on Iran's controversial nuclear program ahead of the meeting with the P5+1," Toby Iles, Iran analyst at London's Economist Intelligence Unit, told EurasiaNet.org by e-mail.
"This largely reflects a deadlock over reciprocity – Iran will not consider suspending uranium enrichment without at least some economic sanctions being lifted, but the United States considers the maintenance of these sanctions as vital to ensuring a shift in Iranian thinking."
Iranian media February 19 quoted Foreign Ministry spokesman Ramin Mehmanparast as saying that if the six-nation negotiators showed "goodwill," Iran would act "to remove their possible concerns and ambiguities to show our goodwill."
Complicating matters is Iran's domestic political agenda, says Iles: a presidential election is approaching and a recent Gallup poll shows 63 percent of Iranians supporting the nuclear program. "Given the political sensitivity of the nuclear issue in Iran, domestic factors are definitely at play and make any breakthrough unlikely before the presidential election."
"Any agreement would require a measure of consensus within the [Iranian] political class," he added. "This will be difficult to achieve ahead of the presidential election in June this year, especially given that political in-fighting has intensified in recent weeks."
Negotiations last June broke down over seemingly irreconcilable differences: Iran demanded an immediate end to sanctions, without preconditions, that have sent its economy into a tailspin. The six-nation group wanted an immediate end to medium-level enrichment and the closure of the Fordow underground enrichment facility before sanctions relief.
Pressure mounted last year as the nuclear talks remained frozen. In November, Israeli President Benjamin Netanyahu declared himself "ready to press the button if necessary" for a strike on Iran. In January, US President Barack Obama said there were "no options off the table."
The Almaty talks offer a diplomatic opportunity for Kazakhstani President Nursultan Nazarbayev's administration, which has been keen in recent years for the Central Asian nation to become more of a global economic and political player. Kazakhstani diplomats cast the country as an honest broker: a secular, mainly Muslim country enjoying good relations with all the great powers and Iran. Kazakhstan is also a role model for nuclear non-proliferation: it voluntarily renounced its atomic weapons arsenal, inherited from the Soviet Union, in 1991. Kazakhstan has also offered to host an international nuclear fuel bank to give states access to fuel for peaceful purposes, reducing proliferation risks.
The P5+1 group in Almaty is expected to present a new offer to ease sanctions on gold, if Iran makes movements toward closing down Fordow, the Reuters news agency reported on February 15, citing anonymous Western officials. Fordow is Iran's only facility enriching uranium to the level of 20 percent (a crucial stage in making a nuclear bomb). The six-nation group wants Iran to hand over its existing stockpile of 20-percent enriched uranium for international safekeeping.
In the weeks leading up to the Almaty talks, Iranian leaders have talked tough. Supreme Leader Ali Khamenei, for example, rejected a US overture for bilateral talks, and took a potshot at Washington over sanctions. "You aim the gun at the Iranian nation and then say 'negotiate or I shoot'!" Fars News Agency quoted the Supreme Leader as saying on February 13. Three days later he denied Iran was pursuing nuclear weapons – though "no power" could stop it, should it desire to.
In Iran, says Iles, there is a political tug-of-war going on over whether to compromise. "Whereas pragmatists believe Iran can gain through diplomacy, opponents of talks have stressed the virtues of self-sufficiency and Iran's ability to overcome any adverse effects from sanctions."
He predicts the continuation of "an oscillating pattern of a ratcheting-up of tensions followed by negotiations," but says the incentive to compromise may increase.
"Iran's weakening economy – oil revenue down by around 50 percent in 2012; a severe depreciation of the unofficial exchange rate; and soaring inflation – may reach a point where diplomatic posturing is no longer affordable and a compromise more likely," Iles said.
February 26 2013, 09:42