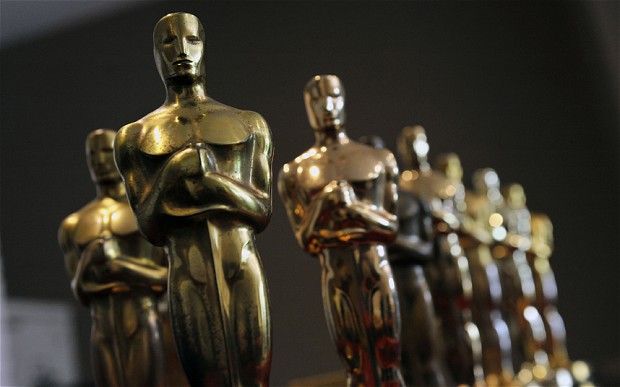 Oscar nominations: a set of Oscar statuettes Photo: Getty ImagesThe 2013 Academy Awards nominations have been announced in LA, and Lincoln leads the pack with 12 nominations. Emma Stone and Seth McFarlane, this year's Oscar host, made an atypically funny and entertaining announcement this morning in LA, ahead of the ceremony on February 24 this year.
Life Of Pi came close behind with 11 awards, while Les Misérables and Silver Linings Playbook both picked up 8 (the latter did exceptionally well in the Acting categories, with nods in all four fields). Argo managed 7 nods, while there were 5 for Amour, Zero Dark Thirty, Django Unchained and Skyfall.
The Best Picture nominees are a respectable and eclectic bunch. The big, obvious Oscar contenders like Lincoln, Les Misérables, Argo and Zero Dark Thirty are rubbing shoulders with smaller films like Beasts Of The Southern Wild and Amour, with slightly left-field choices like the super-violent Django Unchained and the quirkily romantic Silver Linings Playbook.
For Best Actor, frontrunner Daniel Day-Lewis goes up against Denzel Washington for Flight, Hugh Jackman for Les Misérables, Bradley Cooper for Silver Linings Playbook and Joaquin Phoenix for The Master. We can't help wondering if there's any point those four guys showing up but best of luck to them.
Best Actress is a category that's harder to call. Jessica Chastain's intense turn in Zero Dark Thirty is nominated, as is Naomi Watts for her desperate straits in The Impossible, while Jennifer Lawrence is up for her simmering anger in Silver Linings Playbook. But what's most interesting is the extreme age range added by the other two nominees: Emmanuelle Riva, at 85, gets the nod for her heartbreaking work in Amour, while 9 year-old Quvenzhane Wallis is up for Beasts Of The Southern Wild.
Best Director is perhaps the most surprising category of all. Previous nominees Steven Spielberg, Ang Lee and David O. Russell go against arthouse giant Michael Haneke and absolute newcomer Benh Zeitlin. It's the most interesting selection in that category in ages, and one that we find a lot more interesting than the equivalent BAFTA line-up this year. Could it be Haneke's year? Probably not, but it's nice to see the Palme d'Or winner up there.
Best Supporting Actor shows nominations for Christoph Waltz, Philip Seymour Hoffman, Robert De Niro, Alan Arkin and Tommy Lee Jones - all previous winners of an Acting award. Best Supporting Actress sees Sally Field, Anne Hathaway, Jackie Weaver, Helen Hunt and Amy Adams duke it out - all previous nominees, although only two have won before (Hunt and Field).
Best Animated nominees are Frankenweenie, Paranorman, Brave, The Pirates! In An Adventure With Scientists and Wreck-It-Ralph. Always nice to see five films up for that award, and it's interesting that three of them are stop-motion rather than CG this year.
Best Original Song saw love for Chasing Ice, Life Of Pi, Les Miserables, Ted and Skyfall - one of five nominations for the Bond film. Best Foreign Film sees Haneke's Amour pick up another nod, up against Chile's No, Canada's War Witch, Denmark's A Royal Affair and Norway's Kon-Tiki.
As an aside, Best Picture winners have all, since about 1980, had a Best Editing nomination to match. The nominees in that category are Argo, Life Of Pi, Lincoln, Silver Linings Playbook and Zero Dark Thirty - so consider those five the front-runners for Best Picture. Combine it with Best Director, another strong indicator, and the front-runners become Lincoln, Silver Linings Playbook and Life Of Pi - all of which also get a Screenplay nod. Make your predictions accordingly.
February 22 2013, 17:27