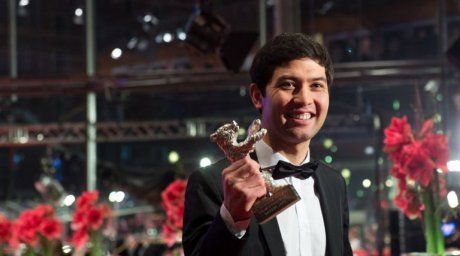 Aziz Zhambakiyev won Berlinale awardKazakhstan movie Harmony Lessons won a Silver Bear for Artistic Achievement for its cinematographer Aziz Zhambakiyev at the 63rd Berlinale, Tengrinews.kz reports citing the festival's official website.

Receiving the award, Aziz Zhambakiyev thanked the team that was working on the movie and president of KazakhFilm Yermek Amanshayev personally.

Harmony Lessons movie tells the story of a 13-y.o. schoolboy named Aslan, who suffers indignity in front of his classmates and this starts a personality disorder in him. After that the boy starts to strain after cleanliness and perfection and becomes obsessed with controlling everything around him. But his relationships with the classmates and blackmailing keep getting worse.

Berlinale's Golden Bear top prize to Child's Pose, Calin Peter Netzer's mother-son psychodrama set among post-communist Romania's new ruling class.

The Berlinale, the first major European film festival of the year and typically its most politically minded, handed two prizes to the Bosnian docu-drama "An Episode in the Life of an Iron Picker".

Nazif Mujic, the real-life protagonist of the picture about a Roma couple denied life-saving medical treatment, was the surprise winner of the Silver Bear best actor prize.

The ultra-low-budget film also took the runner-up jury prize.

David Gordon Green picked up the Silver Bear best director award for his quirky US buddy picture "Prince Avalanche", a remake of the 2011 Icelandic film "Either Way".

The movie, the only comedy among the 19 contenders at the festival, stars Paul Rudd and Emile Hirsch as highway maintenance workers in Texas at crossroads in their lives.

Best screenplay went to "Closed Curtain" by Iranian dissident director Jafar Panahi and his longtime collaborator Kambuzia Partovi, a film made in secret in defiance of a ban by the authorities in Tehran.

Best actress went to Chile's Paulina Garcia for "Gloria", a feel-good movie about a middle-aged divorcee who refuses to give up on a shot at happiness.

The total of around 400 movies were screened at the Berlinale. 19 films fought for the top prize. The jury was made of German director Andreas Dresen, actor Tim Robbins and Iranian visual artist Shirin Neshat. Chinese filmmaker and journalist Wong Kar-Wai chaired the jury.

February 19 2013, 11:57