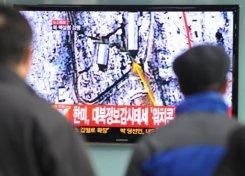 North Korea confirmed it has successfully carried out an underground nuclear test of a new, "miniaturised" device in what it called a targeted response to US "hostility".
"A third nuclear test has been successfully staged," the state-run Korean Central News Agency (KCNA) said.
"The high-level nuclear test, unlike in the past, had more explosive power and involved a miniaturised and lighter atomic bomb and was staged safely and perfectly," KCNA said.
The announcement that the device was "miniaturised" will set alarm bells ringing around the globe, with its suggestion that Pyongyang has mastered the technically complex process of producing a warhead small enough to fit on a long-range missile.
Proven miniaturisation ability would take on added significance in the wake of December's rocket launch which marked a major step forward in the North's ballistic prowess.
The December launch was condemned in a UN Security Council resolution that also expanded existing sanctions against Pyongyang.
North Koreasaid the launch was a purely scientific mission to place a satellite in orbit, and the KCNA announcement said Tuesday's test was a direct response to the US proposed resolution.
"The nuclear test was conducted as part of measures to protect our national security and sovereignty against the reckless hostility of the United States that violated our republic's right for a peaceful satellite launch," KCNA said.
South Koreamoved quickly to condemn the test.
"This is an unacceptable threat to the security of the Korean peninsula and northeast Asia and a challenge to the whole international community," presidential national security adviser Chun Young-Woo told reporters.
"The North will face grave responsibility for such provocations," Chun said.
February 12 2013, 13:02