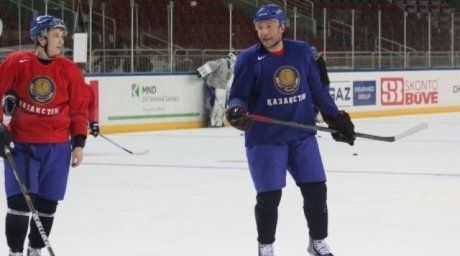 Kazakhstan hockey players at Riga Ice Stadium. ©Vesti.kzThe national ice-hockey team of Kazakhstan will not participle in the 2014 winter Olympiad in Sochi. At the final Olympic qualifying tournament held in Riga on February 7-10, our team came 2nd, yielding the palm to Latvian hockey-team
The Kazakhstan hockey team won the first tournament against the French team (2:3), then lost to Latvain team (2:3) and flattened the British team (6:0).
So, the French and British hockey teams took the 3d and 4th places respectively, reports Tengrinews.kz
The destiny of out hockey team was decided in the last tournament where the Latvians played against the French. The teams scored even during the main time – 2:2 and the last goal scored by the French team during the additional time did not influence to the final score, as the Latvian team needed to score just 1 point to get a guaranteed 1st place.
The main ticket for the main starts of the quadrennium was won by the Latvians.
WKT
February 11 2013, 10:37