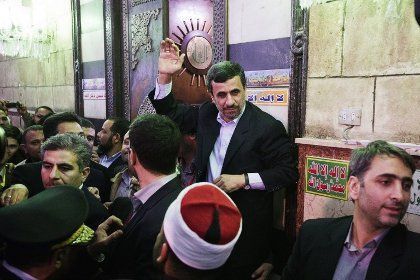 Makhmoud Akhmadinejad, the president of Iran was attacked with shoe during his visit to Cairo, Egypt, reports Al-Arabiyya TV channel.
Reportedly, the incident took place near the Mosque of Al-Hussain. The attacker is a certain Syrian citizen. No more details provided.
The Syrian was apprehended by Egyptian special service officers. He is now in custody.
Akhmadinejad is paying a 3-day visit to Egypt. He met with the Egyptian president and one of the discussion subjects was the current situation in Syria.

It was the first visit of an Iranian leader to Egypt since 1979.




February 6 2013, 14:10