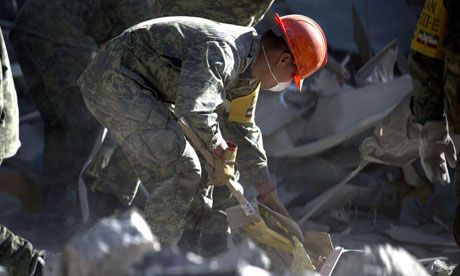 A soldier takes part in the rescue effort and clean-up at the shattered Pemex building in Mexico City. Source:AFPManmade explosives ruled out as cause of blast that killed at least 37 people at Mexican oil company facility, reports guardian.co.uk.
A deadly blast that killed at least 37 people at Mexican state oil monopoly Pemex's headquarters in Mexico City was caused by a build-up of gas, the government has said on Monday.
The attorney general, Jesus Murillo, said no trace of explosives was found at the site of the disaster, the latest in a string of safety lapses to hit the oil monopoly. President Enrique Pena Nieto is seeking to push through a major overhaul of Pemex.

"We have been able to determine that the explosion was caused by an accumulation of gas in the basements of the building," Murillo said. The was believed to be methane.

"This caused a defect in the structure of the floors, which first were pushed upward, and then fell, which was the main cause of death in the building," he said.

The blast last Thursday afternoon in a building at the Pemex complex in downtown Mexico City prompted speculation of sabotage as well as renewed criticism of the oil company's safety record.

For years a source of national pride, Pemex has proven stubbornly resistant to change. The company has become a touchstone for Mexico's capacity for economic reform since oil output began to lag the performance of other major producers.
WKT
February 5 2013, 10:31