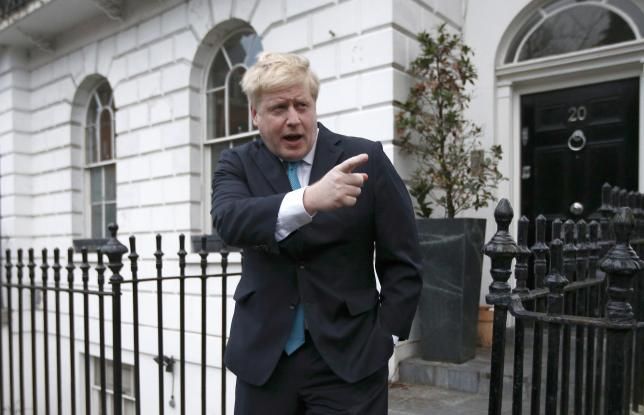 Prime Minister David Cameron will try to sell his case for Britain remaining in the European Union to parliament on Monday, facing hostility from his own lawmakers and an exit campaign energized by the backing of London Mayor Boris Johnson.
Johnson, one of Britain's most popular politicians, announced on Sunday he supported leaving the bloc, dealing a blow to Cameron who struck a deal to reform Britain's relations with the EU last week.
The mayor's announcement, widely regarded as increasing the chance of a British EU exit, saw sterling on course for its biggest one-day loss against the dollar in 11 months while British bond prices also fell.
While Cameron's most senior Cabinet colleagues have stuck with him, five others have said they would campaign for a British exit, highlighting the deep divide in Cameron's Conservative Party over Europe, dating back to the days of Margaret Thatcher in the 1980s.
DE FACTO LEADER
However, Johnson's intervention is seen as significant, giving the "out" campaign a de facto figure head. Betting odds of a British exit rose to a 33 percent chance from about 29 percent after his announcement, according to bookmakers.
Johnson, 51, a political showman whose eccentric persona masks a fierce ambition to succeed Cameron, said on Sunday he did not want to go against Cameron but believed the EU project was in danger of getting out of democratic control.
Cameron is due to make a statement to lawmakers about his EU negotiations later on Monday when the scale of divisions in the Conservative Party over the EU should become clear.
"CAREER ENDING MOVE"
Johnson's supporters dismissed such suggestions, describing the decision to oppose the prime minister as a matter of principle.
"To say that this is a careerist sort of move would be a total travesty," his father Stanley, a former Conservative member of the European Parliament, told BBC radio. "I can't think of any more career ending move than to do what he did yesterday."
A British exit from the EU would rock the Union -- already shaken by differences over migration and the future of the euro zone -- by ripping away its second-largest economy, one of its top two military powers and by far its richest financial center.
Pro-Europeans, including former Prime Ministers Tony Blair and John Major, have warned that an exit could also trigger the break-up of the United Kingdom by prompting another Scottish independence vote.
A poll published before Johnson's move showed the "in" campaign with a lead of 15 percentage points. However, polls have fluctuated widely and surveys suggest about a fifth of voters are undecided.
Cameron's backing for EU membership has the support much of London's financial district, major companies, much of the Labour Party, major trade unions, international allies and Scottish nationalists. Opposed are several bickering "out" campaign groups.
Source: reuters
February 22 2016, 17:41