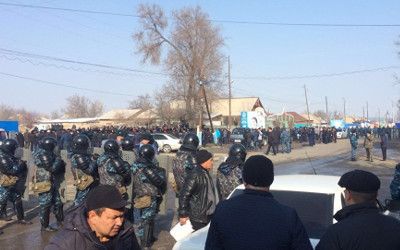 Interior Minister of Kazakhstan Kalmukhanbet Kasymov said that the situation in the village of Buryl has normalized after the murder of a little boy sparked major ethnic tensions, Novosti-Kazakhstan reports Thursday.
Hundreds of protesters gathered in the village on February 17, demanding that the whole family of the alleged killer -- a local Meskhetian Turk -- leave the community and the immediate release of several Kazakh men who were detained on hooliganism charges on February 16 after they tried to attack Meskhetian Turks' houses.
The 5-year-old boy was killed on February 15. Probes into the murder of a minor person were launched.
The suspect was arrested on February 16. He confessed to the murder saying he entered the house with the intention to steal some items and killed the boy to get rid of a witness. A number of forensic examinations was assigned, said Kasymov.
"The situation has now normalized and explanatory work with the leaders of ethnic diasporas and local authorities has been carried out," said Kasymov speaking at the Senate session on February 18.
He stressed that the situation is under control and no emergency mode was declared.
He said the troops of the National Guard are there to maintain peace and safety of the locals, including the detainee.
A leader of local Meskhetian Turks, Dunyadar Abdullaev, said his community wants "the killer to receive the maximum punishment."
Some 30 percent of the 12,000 residents of the village are Meskhetian Turks.
Source: RFE/RL
February 18 2016, 15:27