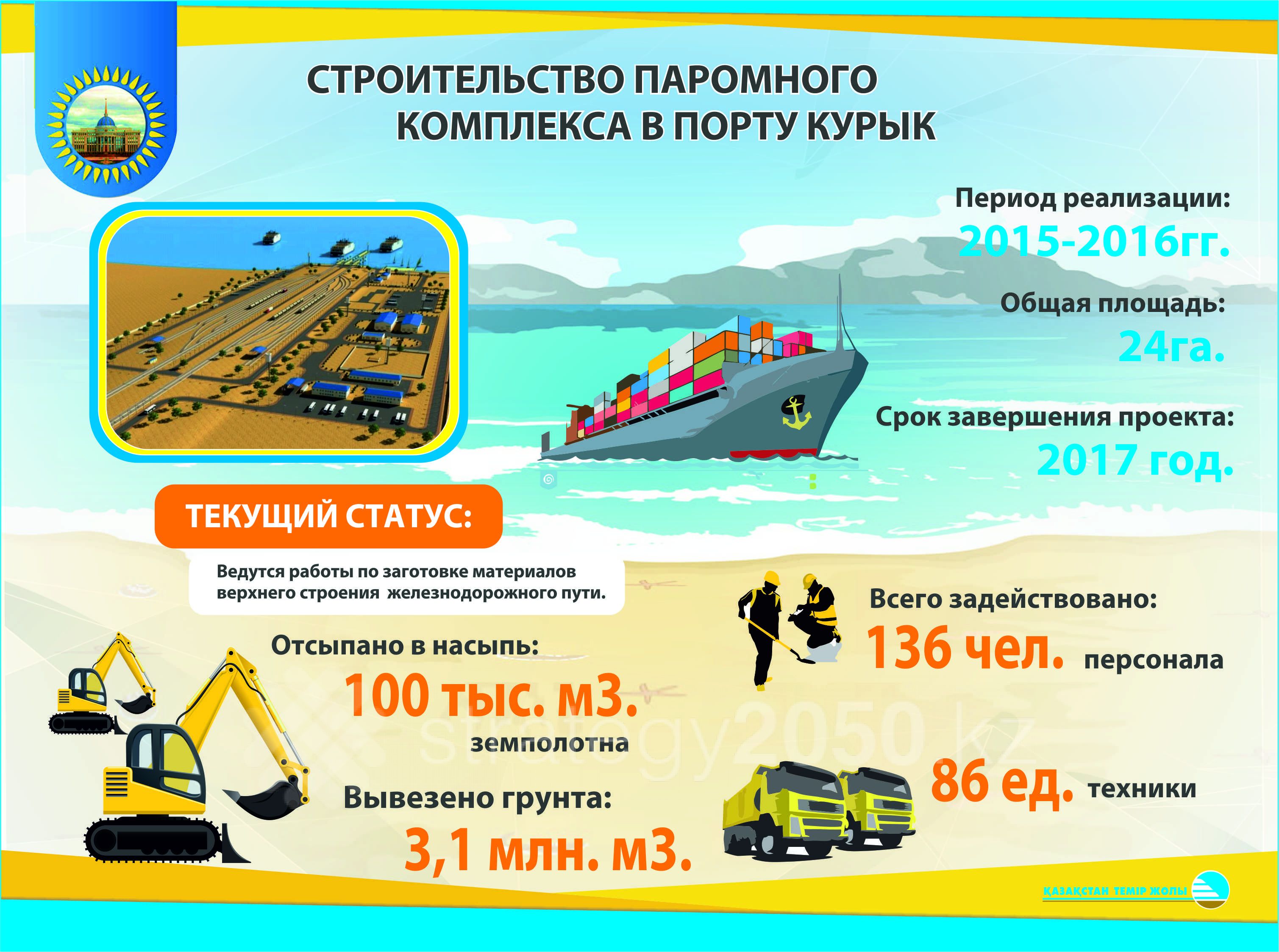 Kazakhstan is building a new major ferry complex in the port of Kuryk in the Caspian Sea, reports the national company Kazakhstan Temir Zholy.
Commissioning of the ferry complex is scheduled for December 2016, according to the company.
The volume of cargo transshipment by the new complex will be at the level of 4.1 million metric tons per year, according to the feasibility study of the project.
Implementation of this project began in April 2015.
Construction of 16 buildings and facilities is planned at the territory of the complex within the framework of the project.
The terminal will be located on the area of 21 hectares. At the same time, it is planned to construct 14.34 kilometers long access road and 11.58 kilometers long dead-end track.
Currently, geological survey, topographic survey of the construction site and water area of the port is underway, Kazakhstan Temir Zholy said.
By late 2015, it is planned to carry out work on dumping the earth bed and creating approach line, earthwork on the territory of the port's dead-end track and construction of the power supply line.
Kazakhstan Temir Zholy reminded that Kazakhstan also implements the Aktau port expansion project on the Caspian Sea, which will be completed in July 2015.
The expansion of the Aktau sea port and the construction of the ferry complex in the Kuryk port will increase the port capacity of Kazakhstan in the Caspian Sea up to 24 million metric tons via the TRACECA and the North-South corridors, the company said. Moreover, the ports of Kazakhstan will be able to handle six million metric tons of ferry cargo annually.
TRACECA is an international cooperation program in the field of transport between the EU and partner countries in Eastern Europe, South Caucasus and Central Asia. The organization has a permanent secretariat in Baku.
TRACECA member states are Azerbaijan, Bulgaria, Georgia, Kazakhstan, Kyrgyzstan, Armenia, Moldova, Romania, Tajikistan, Turkey, Turkmenistan, Ukraine, and Iran.
Source: trend.az
February 16 2016, 11:18