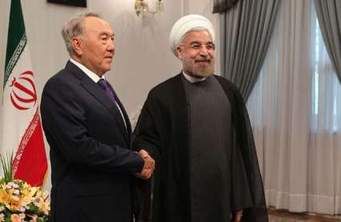 President of Kazakhstan Nursultan Nazarbayev will pay an official visit to Iran in late April, 2016, reports the Ministry of Investments and Development.
The announcement came during a meeting in Bihskek between Askar Mousinov and Iran's Ambassador to Kazakhstan Mojtaba Damirchilou on Friday.
Moussinov said Iran is one of the most important partners of Kazakhstan, adding that since its independence some two decades ago, Bishkek has had great relations with Tehran.
He further said the upcoming visit to Tehran by President Nazarbayev will be focused on joint cooperation in modern technology, industry, trade, agriculture, goods transit, health and treatment, as well as tourism.
Damirchilou, for his part, said Tehran is after broader relations with the world community based on mutual respect and understanding, adding that the country has the potential to play a crucial role in regional and international affairs given its culture and civilization as well as the existing economic and trade potentials.
He went on to state that the nuclear deal between Tehran and world powers could play a vital role in resolving other outstanding regional and international disputes through dialog and diplomacy.
He said terrorism is a threat to world peace and stability, it knows no borders, it threatens every nation, and it requires global cooperation to tackle it.
According to Damirchilou, priority for Iran is greater cooperation with its neighbors including Kazakhstan.
In relevant remarks, Foreign Minister Erlan Idrissov said last year that President Nazabayev planned to visit Iran this year to boost bilateral economic and trade relations.
He added that "during President Hassan Rouhani's visit to Kazakhstan, a roadmap was signed between the two countries. We also talked about our head of state return that visit by going to Iran this year."
Rouhani paid an official visit to Kazakhstan on Sept. 9 to meet with Nazarbayev. The two leaders discussed avenues to development and ways to strengthen Kazakh-Iranian cooperation. They also oversaw the signing of a number of agreements.
Many Kazakh companies, as well as ones from Russia - Kazakhstan's partner in the Eurasian Economic Union along with Belarus - are interested in entering the Iranian market.
Source: farsnews.com
February 15 2016, 09:58