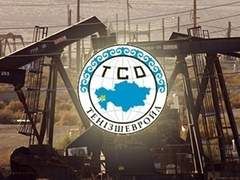 Last year, the Kazakh company "Tengizchevroil" (TCO) produced a record volume of oil in its history – 27.16 million tons. "In 2008, the company completed a project for injection of raw gas, and another one for construction of a second generation plant. This increased the daily oil production to about 75 million tons, or 600,000 barrels. The daily natural gas production reached a level of 22 million cubic meters. Last year, the volume of crude oil production was 27.16 million tons, or 217 million barrels. Its a new record for the enterprise in terms of annual production," the press service of Tengizchevroil announced.

Worth recalling, TCO develops the Tengiz field located in the territory of Atyrau Province. Earlier, in 2014, the company managed to produce a total of about 26.7 million tons of oil.
Last year, TCO sold 6.85 billion cubic meters of dry gas and 1.27 million tons of liquefied gas. Moreover, TCO also sold sulfur (obtained during purification of hydrocarbons) in the amount of 2.7 million tons. It was 13 percent more than the sales level in 2014 (2.4 million tons).
For reference. Tengizchevroil was established in accordance with the agreement on development of the Tengiz deposit that Chevron Corporation and the Government of Kazakhstan signed in 1993. In the territory of Kazakhstan, the company conducts its activities within the license area, which consists of the fields Tengiz and Korolevskoe. The total recoverable oil reserves of the two fields amount to 0.75-1.1 billion tons. The total proven reserves of the Tengiz are 3 billion tons, while the Korolevskoe has 190 million tons.
Source: easttime.info
February 12 2016, 16:54