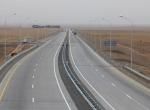 By 2025, about 30 percent of roads in Kazakhstan will be toll. Deputy Minister for Investment and Development of the Republic Jenis Kasymbek announced the news on February 9, while delivering a speech at a meeting of the State Interdepartmental Commission on Emergency Prevention and Remediation. "Today, the total length of roads of national importance is about 21,000 kilometers. We intend to switch about 7,000 kilometers into the category of toll roads by 2025, which is about 30 percent of the total length," he said.
According to the Deputy Minister, in 2015, the tolls on the highway Astana – Shchuchinsk totaled about KZT1.3 billion.
"Road maintenance requires about KZT1 billion; in other words, the road pays for itself. Today, it is the only road in our country maintained in full compliance with regulations. The funds that remain after all the maintenance is done will be used by the management company to buy equipment required for the future maintenance of the road", Kasymbek commented on the situation.
According to him, soon toll roads will be organized in the directions of Pavlodar – Astana, Almaty – Kapshagay, and Karaganda. These will be roads of the first category that fully complies with safety requirements and speed limits.
"70 percent of the roads to be renovated until 2020 will be reconstructed with the use of funds borrowed from the four major banks of the country. Nowadays, we have agreements with them: after the reconstruction is complete, the contractors will leave us a part of their machinery for future road maintenance," the Deputy Minister for Investment and Development said.
Source: easttime.info
February 12 2016, 11:45