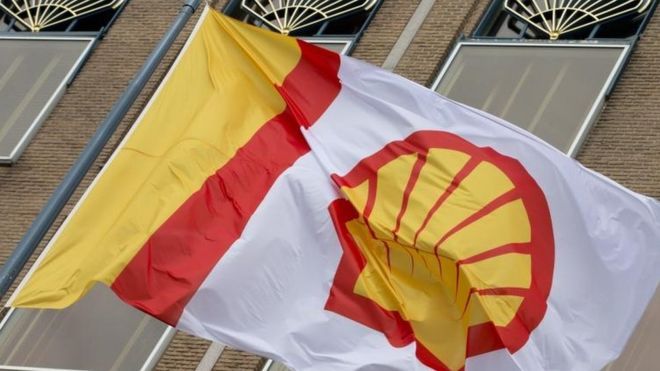 Royal Dutch Shell has confirmed it is cutting 10,000 jobs amid its steepest fall in annual profits for 13 years.
It made $1.8bn (£1.23bn) for the fourth quarter of the year, compared with a $4.2bn profit for the same period the year before.
Full-year 2015 earnings, excluding identified items, were $10.7bn, compared with $22.6 billion in 2014.
The oil firm indicated it would report a massive drop in profits two weeks ago.
Shell also said then that it had cut operating costs by $4bn, or around 10%, in 2015, and expected to cut costs by a further $3bn this year.
Last month, shareholders in Shell, which is Europe's largest oil company, voted in favour of its takeover of smaller rival BG Group.
At the time, oil was trading at about $55 a barrel, but has fallen sharply since then and is currently trading at about $30 a barrel, leading some shareholders to oppose the plan.
Standard Life, a key investor in Royal Dutch Shell, said earlier this month that the price of oil needed to be $60 a barrel for the takeover to make financial sense.
It has already said it will cut 10,000 staff if the deal with BG Group went ahead and said synergies though its tie-up with BG would be on top of the cost savings already outlined.
The company cut back hard on investment over the year, while capital spending for the year was slashed to $28.9bn, $8.4bn lower than in 2014.
Shell sold $5.5bn worth of assets in the course of 2015.
Shell's results are calculated on the basis of replacement cost, which reflects the current cost of supplies and is widely seen as the best measure of an oil firm's underlying performance.
Oil price falls
The drop in the price of oil has been driven by oversupply, mainly due to US shale oil flooding the market.
At the same time, demand has fallen because of a slowdown in economic growth in China and Europe.
The world's energy watchdog warned recently that the market could "drown in oversupply".
The International Energy Agency, which advises countries on energy policy, said it expected the global glut to last until at least late 2016.
The most recent worry for investors is the lifting of Western sanctions on Iran which could worsen the existing oversupply problem, with the country's deputy oil minister, Roknoddin Javadi, predicting it can produce an extra 500,000 barrels per day.
Source: bbc
February 4 2016, 12:00