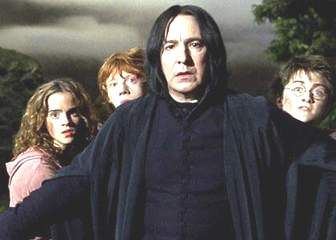 Actor Alan Rickman, known for films including Harry Potter, Die Hard and Robin Hood: Prince of Thieves, has died at the age of 69, his family has said.
The star had been suffering from cancer, a statement said.
He became one of Britain's best-loved acting stars thanks to roles including Professor Snape in the Harry Potter films and Hans Gruber in Die Hard.
Harry Potter author JK Rowling led the tributes, describing him as "a magnificent actor and a wonderful man".
She wrote on Twitter: "There are no words to express how shocked and devastated I am to hear of Alan Rickman's death."
She added: "My thoughts are with [Rickman's wife] Rima and the rest of Alan's family. We have all lost a great talent. They have lost part of their hearts."
Emma Thompson, who appeared with Rickman in productions including Love Actually and was directed by him in The Winter Guest, said he was "the finest of actors and directors" and "the ultimate ally".
He was, above all things, a rare and unique human being and we shall not see his like againEmma Thompson
She wrote in a statement: "Alan was my friend and so this is hard to write because I have just kissed him goodbye.
"What I remember most in this moment of painful leave-taking is his humour, intelligence, wisdom and kindness.
"His capacity to fell you with a look or lift you with a word. The intransigence which made him the great artist he was - his ineffable and cynical wit, the clarity with which he saw most things, including me, and the fact that he never spared me the view. I learned a lot from him."
She added: "He was, above all things, a rare and unique human being and we shall not see his like again."
Announcing his death on Thursday, a family statement said: "The actor and director Alan Rickman has died from cancer at the age of 69. He was surrounded by family and friends."
Source: bbc
January 15 2016, 17:05