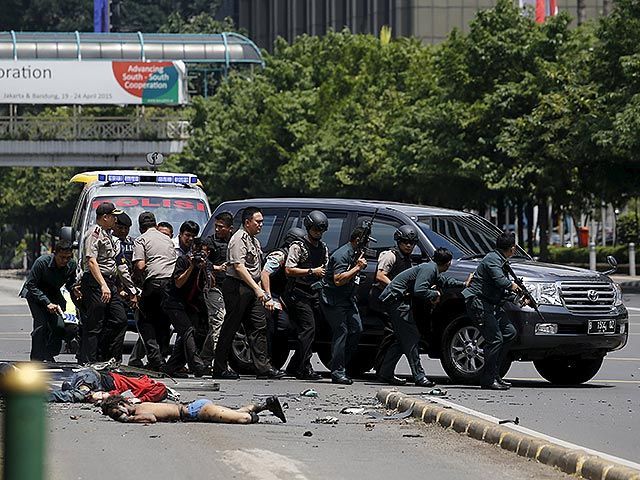 A series of bomb blasts have rocked the Indonesian capital, Jakarta, with continuing gunfire and reports of further explosions.
At least six people have been killed by the blasts, say police, which hit locations including a shopping centre close to UN offices.
Police say at least four suspected attackers are dead. It remains unclear who was behind the assault.
President Joko Widodo has called for calm but condemned the "act of terror".
"We all are grieving for the fallen victims of this incident, but we also condemn the act that has disturbed the security and peace and spread terror among our people," he said.
National police spokesman Anton Charliyan told local media police officers and civilians were among the dead and that no arrests had been made.
Images from Jakarta showed several bodies lying on the road outside a cafe and police police, as well as seriously injured people being carried away.
Indonesia has been attacked by Islamist militant groups in the past and was on high alert over the new year period after threats from the so-called Islamic State (IS).
Mr Charliyan said while it was not yet clear who carried out the attack, IS had warned of a "concert in Indonesia" which would be international news.
The attack began with initial blasts outside the Sarinah shopping centre in Jakarta, followed by more than an hour of gunfire and continuing reports of further explosions.
Armed police, snipers and armoured vehicles are on the streets of the capital.
BBC Indonesian reporter, Jerome Wirawan said police had cordoned off the area around the shopping centre.
Source: bbc
January 14 2016, 13:01