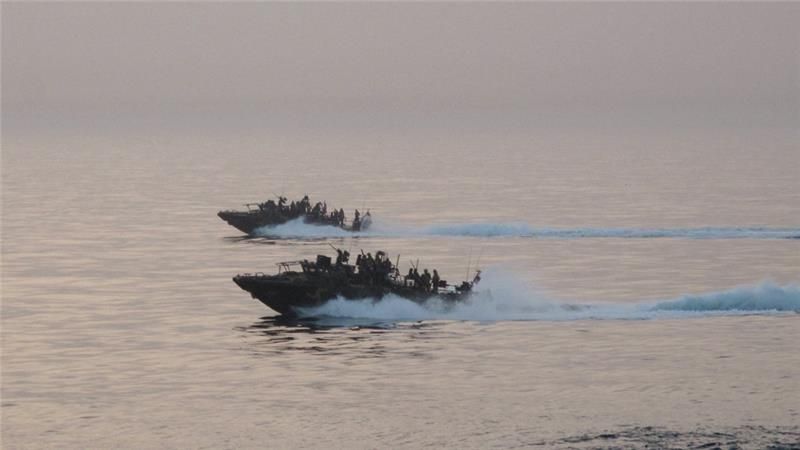 The US is seeking the return of two navy boats along with 10 sailors captured by Iran, according to the Pentagon.
After losing contact with the "two small naval craft", US officials established communication with Iranian authorities "who have informed us of the safety and well-being of our personnel", the Pentagon said in an email to the DPA news agency.
Pentagon spokesperson Peter Cook told the Associated Press news agency that the boats were moving between Kuwait and Bahrain when contact was lost.
"We have been in contact with Iran and have received assurances that the crew and the vessels will be returned promptly," Cook said.
Iranian news agency Fars reported that the vessels were carrying "heavy weapons".
Al Jazeera's Rosiland Jordan, reporting from Washington DC, said the White House has been informed of the incident and is "working as quickly as it can" to release the boats and the sailors.
She added that it was unclear when Iran will release the boats.
"There's a lot of anxiety and concern about the well-being of these persons," Jordan said.
US officials, who spoke on condition of anonymity to the AP, said that the incident happened near Farsi Island, an Iranian island located in the middle of the Gulf.
The officials added that one of the vessels suffered mechanical problems, forcing it to drift into Iranian territory.
"Our sailors are safe," White House spokesman Josh Earnest told CNN.
US Secretary of State John Kerry called Iranian Foreign Minister Mohammed Javad Zarif immediately, according to a senior US official.
Kerry "personally engaged with Zarif on this issue to try to get to this outcome", the official said.
The incident comes days before the reported lifting of sanctions imposed by the US and other Western powers against Iran due to its nuclear programme.
Source: al-jazeera
January 13 2016, 04:39