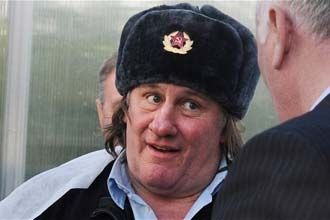 Gérard Depardieu is set to take on the role of Joseph Stalin in a new French film by actor and director Fanny Ardant.
According to the Hollywood Reporter, the French actor, who is also a Russian citizen, will play the Soviet dictator in an adaptation of Jean-Daniel Baltassat's 2013 novel Le Divan de Staline. It will be set in the 1950s and focus on an artist commissioned to make Stalin's monument.
While the film will be produced by French/Portuguese company Leopardo Filmes, Moscow-based studio Mosfilm will provide costumes and props.
Since becoming a Russian citizen in 2013 to avoid paying wealth-based taxes, Depardieu has also announced another project dealing with the former Soviet Union. He wants to make a "historically accurate" film about second world war French fighter aces who flew alongside Soviet Air Forces pilots.
Depardieu denounced the US, while reaffirming his love for Russia at a press conference last October. "They fought each other, destroyed the Indians, after that they perpetrated slavery, then there was the civil war. After that, they were the first to use the atomic bomb … I prefer being Russian."
Source: theguardian.com
December 30 2015, 16:16