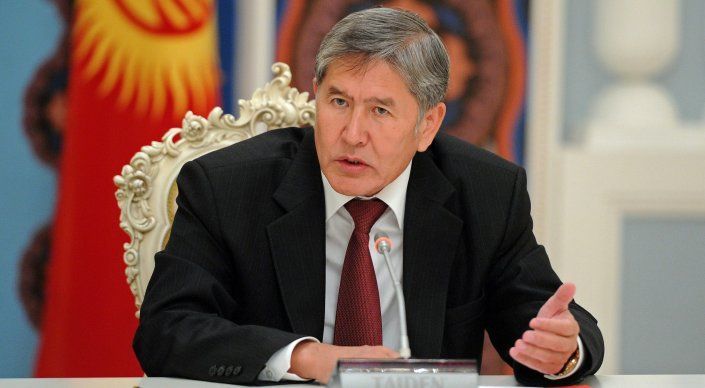 Turkey should not have taken radical measures and downed a Russian military plane, Kyrgyzstan's President Almazbek Atambayev told a press conference on Thursday.
Ankara's actions were "a great mistake" and resulted in the tragedy for the peoples of Turkey and Russia, he added. "The situation is deteriorating, and TV channels of Turkey and Russia fall into some kind of frenzy at times," Atambayev continued. "However, I will repeat that the decision to down the plane was wrong," he stressed.
Turkey's actions were "a blow to the relations that had developed for 25 years," the Kyrgyz president noted. "I know that the Turkish president regrets it, and those who struck the jet did not understand that they also struck bilateral relations," Atambayev stated adding that Turkey "should think and make a right decision."
"It is a bitter situation for me, this situation is uneasy for everybody. Both sides will suffer," Atambayev said adding that it would be great if Russia and Turkey normalized their bilateral relations. "However, the Turkish side should make the first step," he stressed.
Turkish Air Force's fighter jet shot down a Russian Su-24M bomber on November 24. Ankara claims the Su-24M bomber violated the Turkish air space in the area of the border with Syria. However, Russia's Defense Ministry has said the Su-24M plane stayed exclusively over the Syrian territory and "there was no violation of the Turkish air space."
The crew of the Su-24M bomber managed to eject but one of the pilots, Oleg Peshkov, was killed by gunfire from the ground. The second pilot, Konstantin Murakhtin, was rescued and taken to the Russian air base. During the operation to evacuate Su-24M pilots a Mi-8 helicopter was lost. Marine Alexander Pozynich was killed in the operation.
Putin described the downing of the Russian jet that took part in the anti-terrorist operation in Syria and did not present a threat to Turkey as a "stab in the back." He warned about "serious consequences" for Russian-Turkish bilateral relations.
Source: tass.ru
December 24 2015, 15:34