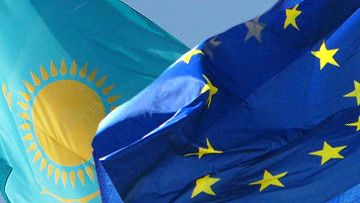 Kazakhstan and the European Union have signed an expanded partnership agreement in Astana, said the website of Kazakh Foreign Ministry.
The document was signed by Kazakhstan's Foreign Minister Erlan Idrissov and the EU High Representative for Foreign Affairs and Security Policy Federica Mogherini, who visited Astana to take part in the European Union - Central Asia Ministerial Meeting.
Kazakhstan became the first country in Central Asia to sign a new comprehensive document with the EU, according to the Foreign Ministry.
This agreement opens new opportunities for cooperation between Kazakhstan and the EU in trade, economic and investment spheres.
Today, the EU is the largest trade partner of Kazakhstan. The trade turnover with the EU exceeded $53 billion as of 2014, or 53.2 percent of Kazakhstan's total trade turnover.
This figure reached $24.5 billion as of Jan.-Sept. 2015, or 51.8 percent of the country's total foreign trade.
Source: trend.az
December 22 2015, 19:58