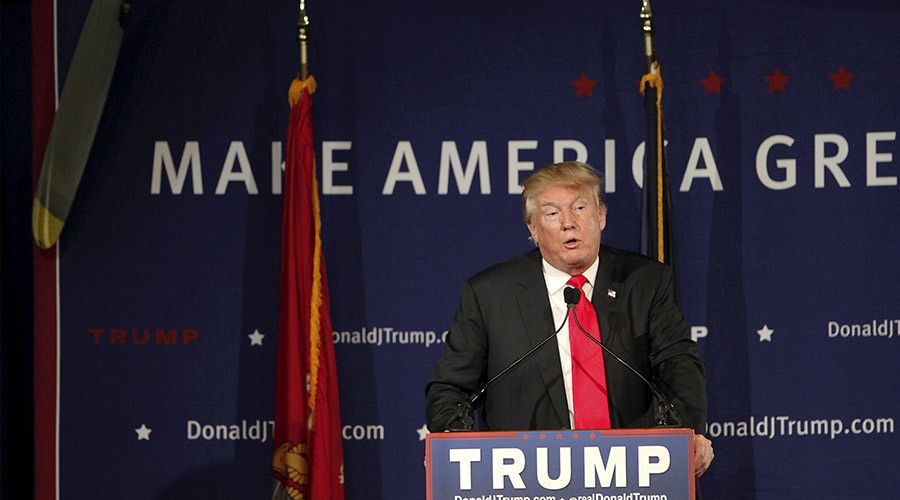 Donald Trump's toxic and offensive comments about Muslims disqualified him from the presidency, the White House has said, urging the Republicans to disavow the candidate if they wish to avoid the "dustbin of history."
"What Donald Trump said yesterday disqualifies him from being president," White House spokesman Josh Earnest told reporters at the daily press briefing on Tuesday. "And for Republican candidates to stand by their pledge to support Mr. Trump, that in and of itself is disqualifying."
"The Trump campaign for months now has had a dustbin of history-like quality to it, from the vacuous sloganeering to the outright lie to even the fake hair – the whole carnival barker routine we've seen for some time now," Earnest added. "The question now is about the rest of the Republican party and whether or not they're going to be dragged into the dustbin of history with him."
Almost 45 minutes of Tuesday's briefing were dedicated to Trump's statement from the day before, calling for a "total and complete shutdown of Muslims entering the US" in the wake of the terrorist attack in San Bernardino, California.

In addition to the White House spokesman, State Department and Pentagon officials also condemned the comments made by Trump, who currently leads in the polls for the Republican presidential nomination in 2016.
"The State Department remains totally committed to treating all religions with respect and without discrimination," Secretary of State John Kerry told reporters in Paris. "I believe that comments such as those that we just heard are not constructive – and I would say that is putting it diplomatically."
Over at the Pentagon, Defense Department spokesman Peter Cook said that that any comments that bolster Islamic State's narrative and pit the US against Islam are "certainly not only contrary to our values but contrary to our national security,"according to Reuters.
Cook's statement was very similar to a tweet by the Democratic Party frontrunner Hillary Clinton on Tuesday afternoon.
Such overt involvement in the opposition party's campaign for the presidential nomination is very unusual for a sitting administration.
The chorus of condemnations seems to have had some effect on the Republican party leadership, with Republican National Committee chairman Reince Priebus telling the Washington Examiner he did not agree with Trump's proposal to ban Muslims from entering the US.
"I don't agree," Priebus told the Examiner on Tuesday. "We need to aggressively take on radical Islamic terrorism but not at the expense of our American values."
On the other hand, Trump's "Islamophobia" appears to be boosting his lead in the polls. The latest Public Policy Polling survey in North Carolina shows Trump convincingly ahead of the rest of the Republican pack at 33 percent, twice the support of the nearest rival, Ted Cruz, who is polling at 16 percent.
Source:rt.com
December 9 2015, 10:34