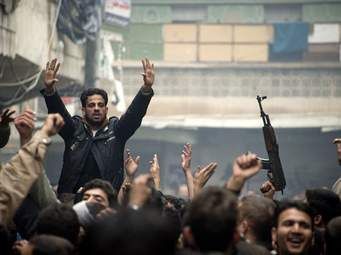 Three-day conference gets under way in Saudi capital Riyadh without Kurdish groups, which are holding their own meeting.
Saudi Arabia is hosting a three-day meeting in Riyadh to try to unite the Syrian opposition before potential talks with the government of President Bashar al-Assad.
There have been attempts to do this before, but this time international peace efforts are gaining momentum.
There is a need for the opposition to speak in one voice and present a common vision for Syria's future.
The alliances in this conflict are a complicated maze: There is no clear way through.
There is a spanner in the works already after the decision by Saudi Arabia not to invite the Democratic Union Party (PYD), the largest Kurdish group, and its armed wing, the YPG. Its allies, the Syrian Democratic Forces (SDF), have not been invited either.
Instead, they will be holding a separate meeting in Syria's northeastern province of Hasakah.
The Saudi meeting comes amid international efforts to restart peace negotiations with the Syrian government and there is a need to create a delegation to represent the opposition.
Global and regional powers recently met in Vienna and agreed on launching peace talks and a political process but there was no agreement on Assad's role in that process.
Foreign backers of the warring sides disagree on whether the Syrian leader can stay in power during the transition process. The opposition is just as divided.

"The majority of the opposition believes Assad is part of the problem. There can't be a solution unless he steps down immediately," said Louay Safi, who was a member of the opposition delegation which attended the first peace conference held in Geneva last year.
Safi will attend the meeting in Saudi Arabia but he is no longer a member of the main political opposition in exile, the Syrian National Coalition.
'Hostages of government'
The coalition will send delegates to Riyadh but so will the Damascus-based National Coordination Committee for Democratic Change. They are known as the tolerated opposition.
But many, like Safi, believe its members are hostages of the government.
"They are under the influence of the regime and they are scared of the regime. They cannot outright call for Assad's departure."
Source: al-jazeera
December 8 2015, 18:36