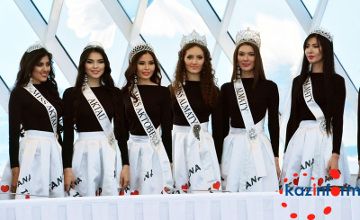 The online voting for MISS KAZAKHSTAN 2015 beauty pageant is now open.
You can have a look at the contestants' photos at the official website of the beauty pageant. To vote, log on tomisskazakhstan.kz and follow the instructions. To vote you need to provide your mobile phone number. If done correctly, you will get a message on your screen.

The Miss Kazakhstan final will take place in Astana on December 10. 30 beauties will compete for the coveted crown and title of Miss Kazakhstan 2015.

The winner is believed to receive a hefty prize of five million tenge.

There are only six days and 13 hours left to vote, so make sure you cast your vote for your favorite contestant.
Source:inform.kz
December 4 2015, 10:00