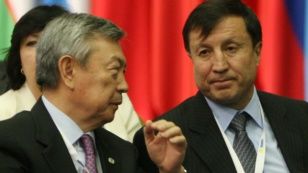 The national security committee prevented the terror acts planed in Astana, said Adilbek Dzhaksybekov, the Mayor of Astana, azh.kz reports citing inform.kz.
"Anti-terror issues are on the first place now. Four months ago the national security committee discovered a secret group which was planning terror acts in Astana," said Dzhaksybekov on Friday at the coordination council meeting of the city aimed on ensuring of law and order and fight against crime.
On photo: Mayor of Astana Adilbek Dzhaksybekov (R) and Nurtai Abykaev, the Chairman of RoK National Security Committee (L).
November 20 2015, 16:07