By Murat Sultangaliev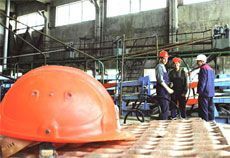 The accident connected with the death of forklift operator that took place on the territory of Isker LLP production base, located at Karaton-1 rotational camp, has been investigated (see "Death of operator in Tengiz") .
To recall, on September 30 of this year during loading operations of compressor onto low-boy platform, forklift operator was trapped between side walls of low boy and forklift. 30-y.o. operator from West Kazakhstan Oblast died on the spot from injuries that he received as the result of squeezing.
According to the head of regional administration of State Labour Inspection Salauat Ishai, low-boy KAMAZ truck driver opened two side boards and went to endorse his travel permit. Forklift operator lifted the compressor and following the signaller's commands drove up to a loading spot. Between side boards of low-boy there was a removable steel rack that prevented from loading the compressor. The operator decides to park his fork-lifter one and a half meters from Kamaz truck.
In order to remove the obstacle the signaller climbed the truck platform and tried to unload the rack. The forklift operator on his own initiative, probably, decided to help the signaler to move the rack and left his cabin moving towards the truck. At that moment the fork-lifter started spontaneously and operator ended up jammed between the forklift and the side board of a low-boy truck.
The victim on ambulance was delivered to TCO clinic where he, without regaining consciousness, died. According to forensic medical examination conclusion "the death was caused by mechanical asphyxia from squeezing of thorax and stomach by massive objects."
The commission came to conclusion that the main cause of the accident was incaution of the victim, who left the fork-lifter with working engine, loaded with cargo and without setting parking brakes. Actions of Kamaz truck driver were regarded as violation of labor and operations discipline. According to the results of investigation the degree of fault of the employer was estimated as 30% and of the worker as 70%.
November 13 2015, 14:29