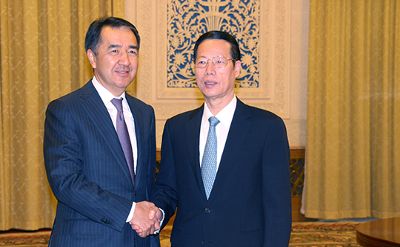 First Deputy Prime Minister of Kazakhstan Bakytzhan Sagintayev and Vice Premier of China Zhang Gaoli met in Beijing today to discuss implementation of agreements reached during the talks between President of Kazakhstan Nursultan Nazarbayev and President of China Xi Jinping in September in China.

Bakhytzhan Sagintayev and Zhang Gaoli discussed the possibility of signing the cooperation program 2015-2020 and creation of the Kazakhstan-China Interregional Forum.
In order to achieve US$ 40 billion bilateral trade by 2020, Sagintayev proposed to consider the possibility of creating a special High Level Working Group to increase the volume of mutual trade and the adoption of a road map.
During the talks they also discussed trade, economic, industrial and innovation cooperation, interaction in the framework of large-scale transport projects, energy sector, agriculture.
Source: akipress.com
November 9 2015, 10:38