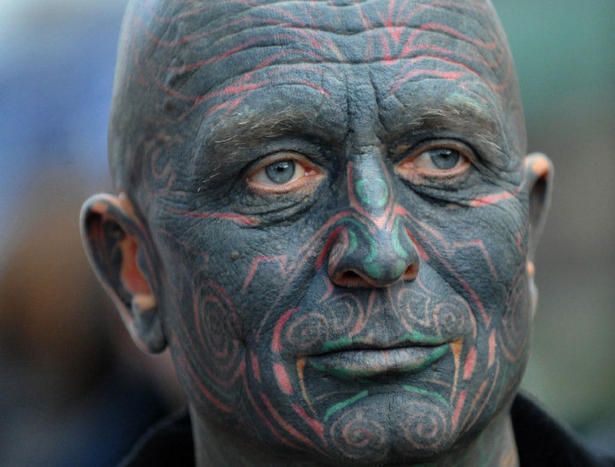 Czech fully-tattooed artist and drama professor Vladimir Franz is running for presidencyHe's tattooed from head to toe, a warrior-like mix of blue, green and red. He's also running in a surprising third place ahead of this week's Czech presidential elections.
Vladimir Franz, an opera composer and painter, seems the most unlikely of candidates for a prestigious post previously held by beloved playwright-dissident Vaclav Havel and Vaclav Klaus, a professor credited with plotting the economic transition from communism to a free market.
Some have a nickname for Franz: 'Avatar.' And during a televised debate a caller compared him to "an exotic creature from Papua New Guinea."
But he's not short of admirers in a country where voters are increasingly tired of politicians they say are corrupt and failing to deliver on years of promises, more than two decades after the fall of communism.
Franz has no political experience and confesses to little knowledge of economics. He says he only threw his hat in the ring after a group of admirers established the Franz for President initiative and begged him to shake up the race through his shock factor. But he's stirred up such goodwill that a leading economist offered his services for free and his campaign workers are also volunteers.
He's only spent $25,000 from donations on his campaign and hasn't put up any posters.
Franz burst onto the political scene with an eye-catching 88,000 signatures from the public at the end of 2012 — far more than the 50,000 required by law.
Not affiliated with any party, he has campaigned mostly on a platform highlighting graft, the importance of education and the nation's moral standing.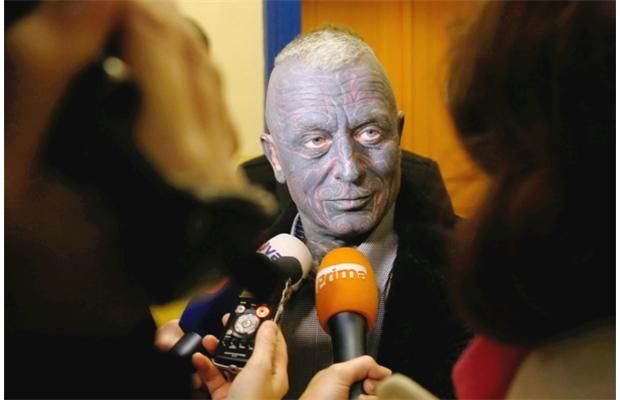 He's tipped to win around 11 per cent in the first round on Friday and Saturday — not enough to make the runoffs. But he may end up kingmaker as the leading candidates — former prime ministers Jan Fischer and Milos Zeman — would be eager to pick up his following if the vote goes to a second round.
Franz is seen as "a candidate who is not tainted by politics," Strachota said. "They look with sympathy at his nonconformity and the way he presents himself."
And, perhaps surprisingly, few take issue with his tattoos.
"A tattoo is a sign of a free will and that does not harm the freedom of anyone else," he says.
For the first time, the Czech president will be elected in a popular vote — a new system that makes it possible for independent candidates like Franz to run for the largely ceremonial post.
A total of nine candidates are running. Unlike the Euro-skeptic Klaus who attacked the EU at every opportunity, the favourites, Zeman and Fischer, have a more moderate approach to the bloc which the country joined in 2004.
Zeman, the leftist premier in 1998-02, leads the polls with about 25 per cent support. Fischer, a centrist and a former state bureaucrat, gained significant popularity when he led a caretaker government in 2009-10. He polls at about 20 per cent.
As the campaign approached its end on Tuesday, eight candidates were busy on the stump. The ninth — Franz — had other matters to deal with: a final rehearsal of his opera "War with the Newts" at the State Opera.
"For a Czech composer to have a world premiere in the National Theater is something extraordinary. I had to make a choice between a service to the public and the fulfilment of my lifelong dream. I've made the choice and will be at the debate."
January 12 2013, 09:49