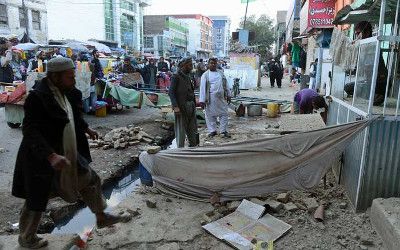 More than 260 people have died, mostly in Pakistan, after a magnitude-7.5 earthquake hit north-eastern Afghanistan.
Tremors from the quake were also felt in northern India and Tajikistan.
At least 12 of the victims were Afghan schoolgirls killed in a crush as they tried to get out of their building.
The earthquake was centred in the mountainous Hindu Kush region, 76km (45 miles) south of Faizabad, the US Geological Survey reported.
The death toll is set to rise as the most severely affected areas are very remote and communications have been cut off.
In Pakistan, the death toll has risen to at least 214, in the northern mountainous areas.
In Khyber Pakhtunkhwa province alone, authorities said at least 179 people were known to have died, and more than 1,800 were injured.
Pakistan's Prime Minister Nawaz Sharif is cutting short a visit abroad and returning home.
Sunnatullah Timour, a spokesman for the governor of the Afghan province of Takhar, told the BBC that as well as the fatalities at the girls' school, another 25 students were injured in the stampede.
Deaths and injuries have also been reported in the Afghan provinces of Nangarhar, Badakhshan and Kunar, with at least 52 killed in total.
Afghanistan's Chief Executive Abdullah Abdullah tweeted that the government had asked aid agencies to work with it to help those in need.
However as the earthquake originated more than 200km (125 miles) below the earth's surface, the damage is less than that which a similarly powerful but shallow tremor might cause.
In the city of Karimabad, in Pakistan's Gilgit-Baltistan, a witness who gave his name as Anas told the BBC that the quake had sent a landslide crashing into the Hunza river.
"At first it was as if someone was shaking us. There were about 20 of us and we just held on to each other," he said.
"Right after that we saw a major landslide. Some people say it was a glacier that came down, some people say it was a hill. It fell right in front of our eyes."
Pakistan Geological Survey head Imran Khan told the BBC there were reports of landslides disrupting the Karakoram highway between Gilgit and Baltistan. However, he said it was too early to say if any glaciers were destabilised by the quake.
Source: bbc
October 27 2015, 10:15