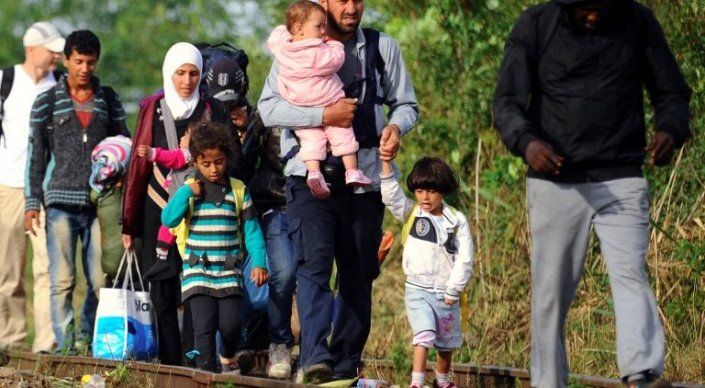 Record numbers of migrants streaming into EU member state Hungary from Serbia continue to climb, police said Wednesday, as thousands of people fleeing conflict and hardship desperately try to reach Europe, AFP reports.
More than 2,500 people, the highest ever daily total, poured across Hungary's southern border with Serbia near the town of Roszko on Tuesday, police said in a statement.
On Monday, there were 2,000 arrivals.
Most of them were Syrian, Afghan and Pakistani nationals, police added.
Hungary's chief police commissioner is set to announce tough new measures on Wednesday to help tighten border controls.
The migrants crossing into Hungary are part of around 7,000 refugees and migrants whose journey to the European Union was blocked last week when Macedonia declared a state of emergency and shut its borders for three days after being overwhelmed by the influx.
The western Balkans has now become one of the main routes into the EU, as people from the Middle East, Asia and Africa try to reach Germany and other western European countries.
Europe's worst migration crisis since World War II is set to dominate a summit of leaders from the western Balkans on Thursday in Vienna that will also be attended by German Chancellor Angela Merkel.
Germany expects to take in a record 800,000 migrants this year.
Hungary, which is part of the passport-free Schengen zone, has registered more than 100,000 asylum-seekers so far in 2015, over double the total for all of last year.
The numbers leapt from 150 per day in the first half of this year to more than 2,000 in August, after Hungary's conservative government announced it would build a razor-wire fence along its border with Serbia.
The fence is one of several tough anti-migrant measures, which also include tightening asylum laws, introducing penalties for illegal border crossing, and the planned closure of permanent refugee camps.

Text/picture: Tengrinews.kz
August 26 2015, 15:23