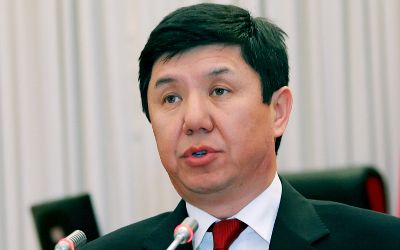 Six people were wounded by gunfire and several were injured by stones as cross-border violence between villages in Kyrgyzstan and Tajikistan persisted for a second day.
The clashes prompted women and children to flee the village of Kok-Tash, on the Kyrgyz side of the border, and raised fears that violence could spiral out of control.
Tensions along the tortuous, partially disputed Kyrgyz-Tajik and Kyrgyz-Uzbek borders have simmered since the breakup of the Soviet Union in 1991 and intensified in recent months, with several outbreaks of violence involving residents and border guards.
The latest clashes broke out on August 3 after residents of the Tajik village of Chorkuh blocked a road that Kyrgyz residents of Kok-Tash use to reach a cemetery where relatives are buried.
In return, Kyrgyz residents blocked the water flow from a local canal to Chorkuh. Some 200 people then gathered on both sides of the border and threw stones at each other.
The crowd had increased to about 500 people on August 4 and residents again threw stones, injuring several people on both sides, according to officials of Tajikistan's Isfara district.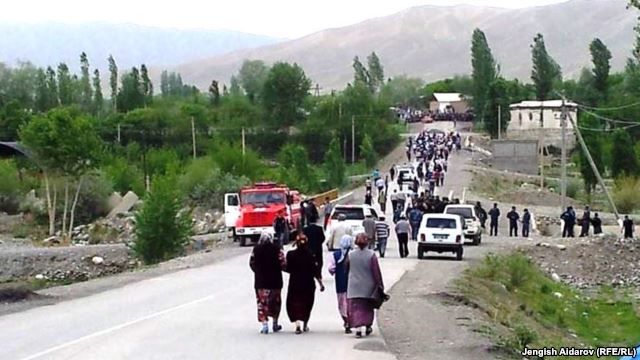 Officials in Tajikistan's Isfara district told RFE/RL that six Tajik citizens were wounded by gunfire that rang out later on August 4. Two of the wounded Tajiks are in grave condition, the officials said.
The deputy chief of Chorkuh, Anduhalil Sharifov, said the shooting came from the Kyrgyz side of the border and broke out when Tajiks resumed work on building a water pipe crossing a disputed area.
He said 10 people from both sides were injured in the initial outbreak of violence on August 3.
Kyrgyz officials reported that four Kyrgyz citizens had been hospitalized after the August 3 incident.
Kyrgyz State Border Guard Service officials told RFE/RL that a single shot was fired from the Kyrgyz side. They described the atmosphere along the border as "tense."
Local authorities and elders from both sides were discussing the situation and urging calm.
Kyrgyz and Tajik border guards said they are monitoring the situation and are ready for joint efforts to prevent an escalation of violence.
Longstanding disputes over segments of the borders between former Soviet republics in Central Asia have been exacerbated by ethnic enmity and conflicting claims to resources such as water. Source: rferl.org
Interdepartmental working group established to resolve conflict on Kyrgyz-Tajik border

Due to the conflict on the Kyrgyz-Tajik border, an interdepartmental working group was established on behalf of Prime Minister Temir Sariyev, reports the press service of the government on August 4.
The working group is headed by the chief of the defense department under the Government's Office, Ryskulbek Japarkulov.
The group left for Batken region to resolve the conflict and regulate the situation, as well as to provide public order and security of citizens.
Currently, representatives of local authorities, law enforcement agencies and border agencies of Kyrgyzstan and Tajikistan are conducting explanatory work with local communities to resolve the conflict.
Source: akipress On photo: Prime Minister Temir Sariyev returned early from his vacation to resolve the conflict on Kyrgyz-Tajik border.
August 5 2015, 15:50