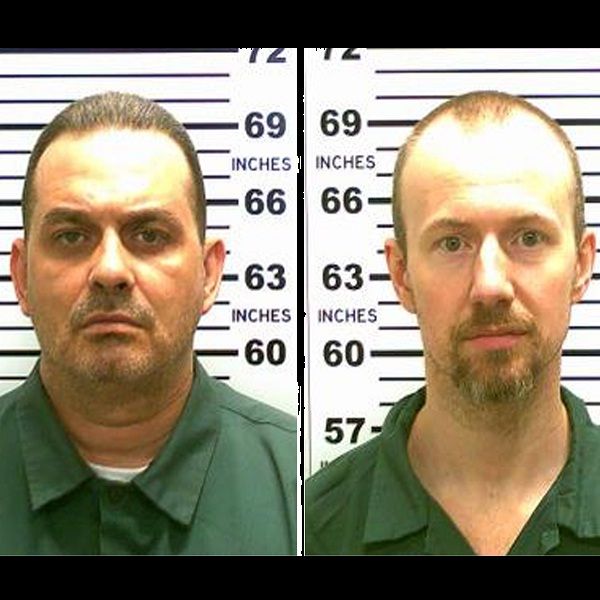 David Sweat, one of two New York state inmates who escaped from prison three weeks ago, was shot by police near the Canadian border and rushed to a local hospital on Sunday, two days after his accomplice was killed, authorities said.
His capture was the dramatic climax of a massive manhunt for Sweat and fellow inmate Richard Matt, who were discovered missing from the Clinton Correctional Facility in Dannemora, New York, on June 6. Some 1,300 members of law enforcement took part in the search through the forests and bogs of northern New York.
Sweat, 35, was shot twice and taken into custody in the town of Constable, 23 miles (37 km) north of Duane, where his accomplice was fatally shot on Friday, authorities said. He was captured just a mile and a half (2.4 km) south of New York's border with the Canadian province of Quebec.
Sergeant Jay Cook of the New York State Police was on patrol alone when he spotted "a suspicious man walking down a roadway" at about 3:20 p.m. local time.
Cook called out to the individual, and when he turned the officer recognized him as Sweat, police said.
The fugitive took off running and the officer shot him twice in the torso, police said. Sweat was taken into custody and transported to a local hospital for treatment.
"The nightmare is finally over," New York state Governor Andrew Cuomo told a news conference. "If you were writing a movie plot, they would say this was overdone." He added that Sweat was in stable condition.
Cuomo said he had personally congratulated the officer.
"It was a very courageous act. I said to Sgt. Cook, who has two daughters, 16 and 17, 'You go home tonight and tell your daughters you're a hero,'" the governor said.
CNN showed a photograph of pale, gaunt-looking Sweat after he was captured, seated on the ground in a dark jacket and muddy camouflage clothing. He appeared to have dried blood on his face.
Sweat has not been interviewed by investigators yet, Joseph D'Amico, superintendent of the New York State police, told the same news conference.
D'Amico, who said police had intended to apprehend Sweat without using force if possible, said he did not know when the two fugitives parted ways during their three-week trek.
Security was tight outside the Alice Hyde Medical Center in Malone, where Sweat was first taken.
"I think a lot of people are going to rest easier tonight," said Jessica Randall, 38, of Malone, who was shopping with her husband when she saw police vehicles speed by.
CNN showed footage of an ambulance and police convoy which it reported later took Sweat to a hospital in the state capital, Albany.
Sweat's mother Pamela told a CNN affiliate in upstate New York that she sighed with relief and then started crying when she heard her son was caught but not killed.
She said he had known better than to seek help from her.
"If he would've come here, I would've knocked him out and had them guys take him to the jail," Pamela Sweat said. "I've always done to it to him when he was bad."
Source: reuters
June 29 2015, 09:50