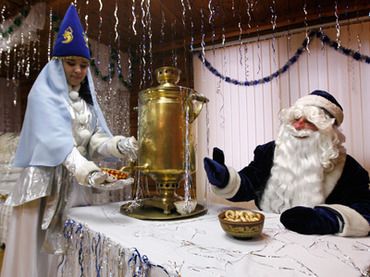 Radical Islamists in the Russian republic of Tatarstan are urging Muslims to refrain from celebrating the 'pagan festival' of New Year claiming it is 'shirk' – an unforgivable sin.

As the country prepares to celebrate one of its most favorite holidays, Wahhabis have launched an anti-New Year campaign in the Central Russia's republic, which has a large Muslim population.

Through slogans that appeared in the capital, Kazan, and posts on social networking services, Islamists try to convince believers that New Year is a pagan holiday and those who celebrate it are idolaters.

In their view, all the symbols of the holiday – Father Frost and his granddaughter the Snow Maiden, a decorated fir tree and a party (even if it is alcohol-free) – are not appropriate either, writes Nezavisimaya Gazeta daily.

Opponents of the celebration stress that it is absolutely unacceptable for men and women – particularly those who are not married – to gather for a feast at the same table.

Meanwhile, heads of some companies in the republic demand that their employees – including non-Muslims – stop decorating their desks with small firs or tinsel on the eve of the holiday. They claim that it insults their religious beliefs.

The anti-New Year propaganda campaign was welcomed by Tatar nationalists, who urge ethnic Tatars to spend December 31 as just an ordinary day. Or, even better, to use the occasion to earn some cash driving gypsy cabs while non-Muslims drink alcohol celebrating their "dirty feast."
However, many citizens in the republic oppose such "dictatorship." Within the past several years, celebrating New Year has become for many Tatars a way to demonstrate that they are against radical Islam. Even those who did not use to decorate a fir tree now do it as a symbolic gesture, Rais Suleymanov, an analyst from Russian Institute for Strategic Studies told RosBalt news agency.

Imams from traditional confessions also try to counter radicals' ideas and explain to believers that the celebration of the holiday does not contradict Islamic traditions, the researcher said. New Year is just a reason for a family to get together. In any case, no one is obliged to do so.

Nonetheless, Wahhabis are not going to give in. On the contrary, they demand that all holidays established in Soviet times – including May 9 Victory Day, International Women's Day and others – be banned in Tatarstan.
December 29 2012, 10:44