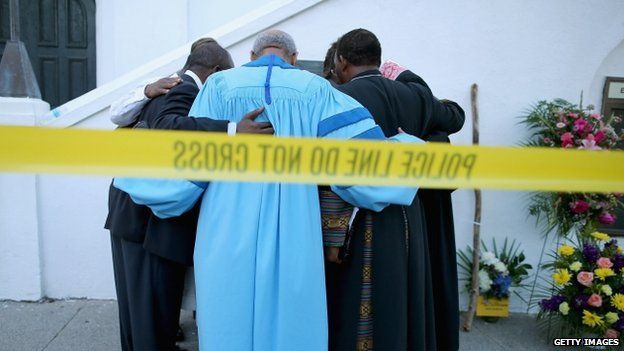 Prayers have been held across the United States after the killing of nine people at a historic African-American church in Charleston, South Carolina.
The suspect, Dylann Roof, 21, was detained during a traffic stop in Shelby, North Carolina.
After a court appearance on Thursday, Mr Roof waived his right to extradition and was flown back to South Carolina.
Six women and three men, including the pastor, died in the attack. A hate crimes investigation has been launched.
Several churches in Charleston were full to overflowing on Thursday evening as prayer services were held. Some services were held outdoors.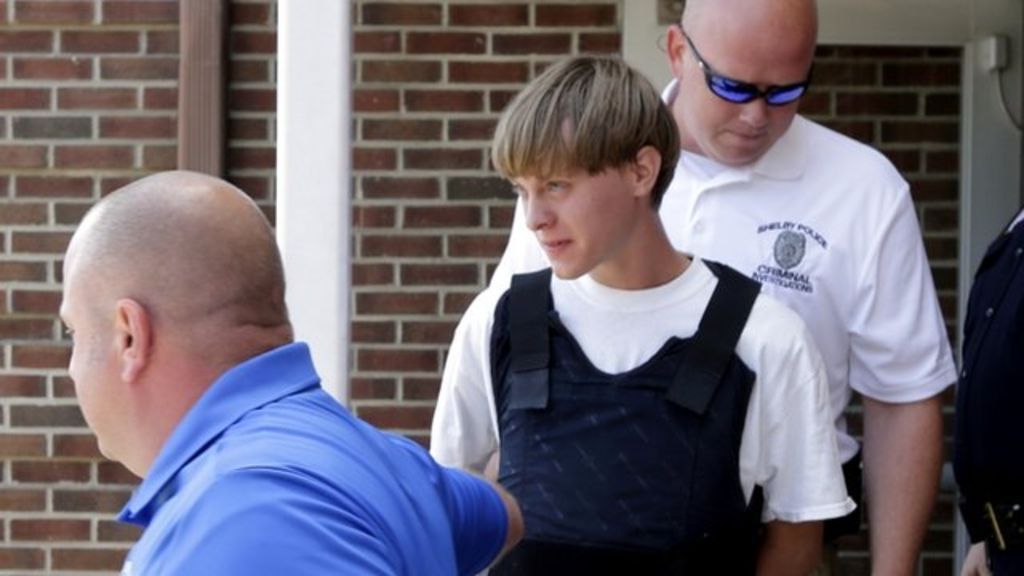 Outside the Emanuel AME Church, where the attack took place, hundreds gathered in soaring heat to pay tribute.
Services were held in several other cities, including Miami, Detroit and Philadelphia.
In New York, services and protests took place, with placards including such messages as "Black Lives Matter" and "Stop killing black people".
US President Barack Obama said he and his wife had known several members of the Emanuel AME Church, including pastor, Clementa Pinckney.
Mr Obama called the church a "sacred place" in the history of Charleston and spoke of his confidence that the congregation and the community would "rise again".
He also raised the issue of gun ownership, saying: "At some point, we as a country have to reckon with the fact that this type of massacre does not happen in other advanced countries".
Presidential candidate Hillary Rodham Clinton said the US had to face "hard truths" on guns.
"How many innocent people in our country, from little children to church members to movie theatre attendees, how many people do we need to see cut down before we act?"
Sharonda Singleton coached the girls athletics team here. As her photo rested on an easel on the polished floors in the vast sports hall, her friends and family paid tribute.
Speaking for the first time since the deadly attack on the AME church where she worshipped, Sharonda's two children, Chris and Camryn, told me they forgive the man who killed her.
"We already forgive him and there's nothing but love from our side of the family," Chris told me.
Many will find this incomprehensible. Charleston is often called the Holy City for the number of churches it is home to, and the role religion plays here. For some, like Chris and Camryn, unwavering faith is the only way to turn such a devastating loss into something positive.
Source: bbc
Photo #1: Prayers have been held across the United States after the killing of nine people at a historic African-American church in Charleston, South Carolina. Photo # 2:Dylann Roof, of Lexington, South Carolina, was detained during a traffic stop in Shelby, North Carolina, police said
June 19 2015, 11:40