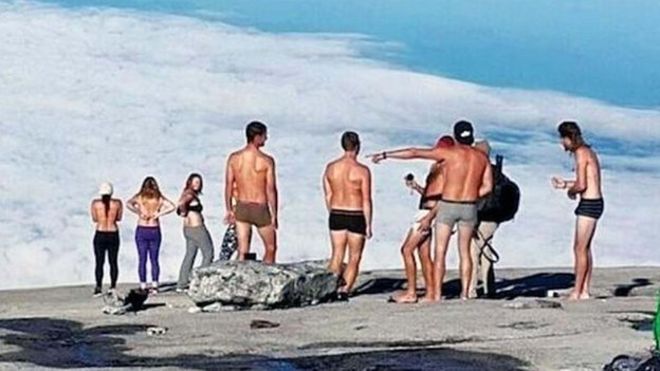 Four tourists who posed naked on a mountain in Malaysia have been given jail terms and fined.
Briton Eleanor Hawkins, Canadians Lindsey and Danielle Peterson, and Dutchman Dylan Snel admitted causing a public disturbance.
The group was blamed for a magnitude 5.9 earthquake after stripping on Mount Kinabalu, which is considered sacred.
They were jailed for three days, but their sentences were back-dated to reflect time already served.
A judge at Kota Kinabalu Magistrates' Court said the four had shown remorse and ordered the jail terms to run from 9 June, meaning the group is free to leave.
He also fined each defendant 5,000 Malaysian ringgit (£860/$1,331).
The BBC's Jennifer Pak, who was in court, said she understood the group were now waiting to pay their fines before being deported.
Hawkins' lawyer Ronny Cham said the 23-year-old, from Draycott in Derbyshire, will be freed from police custody tonight and her release documentation is being arranged.
She will then fly home to the UK on Saturday, her lawyer said.
Her father Timothy Hawkins said the sentence was "appropriate and fair" but it appeared she had been "treated pretty badly" amid the media scrum outside court.
"She's obviously very traumatised," he said.
"Eleanor knows what she did was wrong and disrespectful and she is deeply sorry for any offence she has caused to the Malaysian people."
Source: bbc
June 12 2015, 19:29