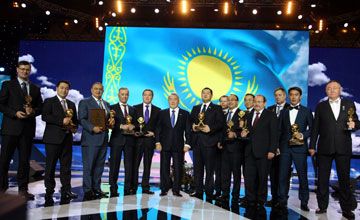 The best domestic companies have been honored by President Nursultan Nazarbayev at the Palace of Independence on December 25, 2012.
KazTransOil JSC won grand prix in corporate social responsibility nomination. The Head of State awarded Paryz statuette to CEO of the company Kaiyrgeldy Kabyldin. The oil giant financed construction of social objects worth 4.1 billion tenge this year.
Kazatomprom Company was named the Leader of Innovations-2012. Vladimir Shkolnik, CEO of the company that currently employs 23 thousand people, was in attendance and received the special award from the Kazakh President. Kazatomprom is featured into the world's leading uranium mining companies.
Special prize was awarded to Kazakhstan Temir Zholy company for being the Leader of Industrialization in 2012. The company had completed and commissioned five industrial objects and deployed another four only in the year of 2012.
Kazinform
December 25 2012, 20:35