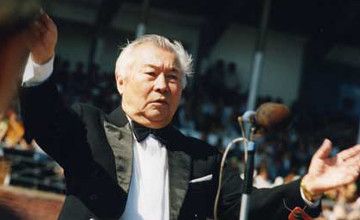 Head of State Nursultan Nazarbayev has sent a telegram of condolences to the family and friends of Kazakhstani conductor and dombrist Shamgon Kazhgaliyev on the occasion of his untimely death, the president's press service reports.
In the telegram President Nazarbayev extends his heartfelt condolences on the occasion of Kazhgaliyev's passing.
"Being one of the first professional conductors and dombrists, Shamgon Sagaddinovich has greatly contributed to the development of our culture. The Kazakh State Orchestra named after Kurmangazy has become internationally acclaimed thanks to his efforts. Shamgon Kazhgaliyev did a lot to promote Kazakhstan's rich national heritage," the telegram reads.

Nursultan Nazarbayev also noted that Shamgon Kazhgaliyev would live on in memory of the people.
Source: inform.kz
May 4 2015, 02:18