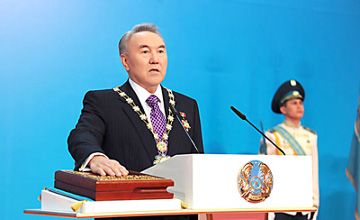 Inauguration of the President of Kazakhstan is scheduled for April 29, this has been announced today during a sitting of the Central Election Commission (CEC).

"The CEC decided to determine April 29, 2015 as a day of President of Kazakhstan Nursultan Nazarbayev's taking the oath. Nursultan Nazarbayev won the early election on April 26," said the CEC secretary Bakhyt Meldeshov.

According to the final results, the President Nursultan Nazarbayev has received 97.75 % of votes.
Source: inform.kz
April 28 2015, 10:24