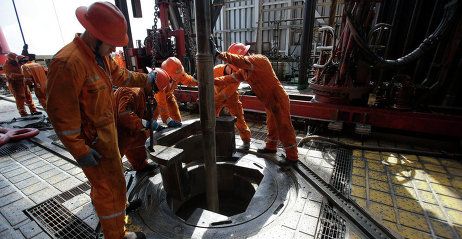 Drilling operations in Tengiz will be carried out by "KMG Nabors Drilling Company" LLP, the documents about establishment of this company were signed on Tuesday in Astana between KMG Drilling & Services LLP (subsidiary of KazMunayGas National Company) and "Nabors Drilling International Ltd" (the world leader in oil and gas drilling), KMG press service reports.

"New joint venture will carry out drilling operations at Tengiz field within the framework of current working program, and also Future Growth Project", - reads the message.
KMG Nabors Drilling Company LLP has been created within the framework of Tengizchevroil's commitment made to Kazakhstan government which are reflected in the corresponding bilateral memorandum of understanding. "According to agreements "Tengizchevroil" will finance the purchasing of new drilling rigs for KMG Nabors Drilling Company joint venture, - KMG press service clarified.
Press release reads that creation of joint venture will allow to increase the Kazakhstan content, to adopt experience, technologies and management system of Nabors, as well as effectively work in a long-term perspective at major oil and gas projects in Kazakhstan as drilling contractor. " KazMunayGas Chairman of the Board Sauat Mynbayev noted that creation of joint venture will open access for KMG to advanced solutions in the field of drilling", - reads the message.
The head office of KMG Nabors Drilling Company LLP will be located in Atyrau and will allow to create in the region up to 200 workplaces for highly qualified personnel, where 90% of employees of the company will be Kazakhstan citizens.
Translated by Zeena Urynbassarova
Source:
News-Kaz Information Agency






April 21 2015, 16:54