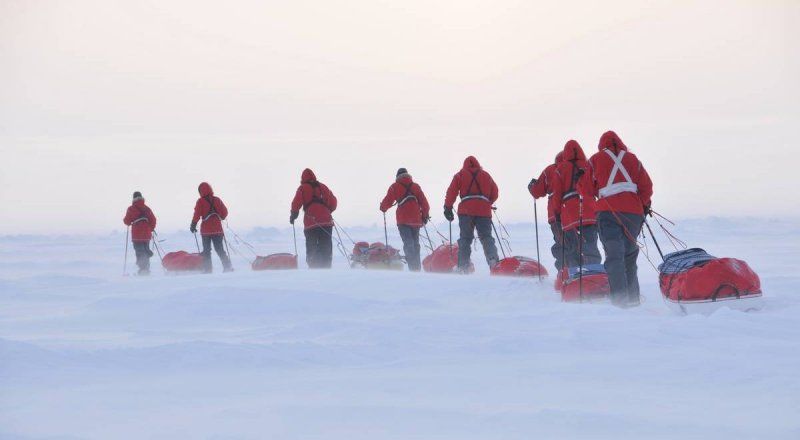 The first Kazakhstan ski expedition to the North Pole will start on March 31, 2015. Member of the Presidium of Kazakh Geographic Society Tolegen Tastanbekov, who is taking part in the expedition, spoke to Tengrinews about the adventure.

Eight Kazakhstanis will be taking part in the upcoming expedition. The group will fly from Almaty to Norway, and then travel to the island of Spitsbergen. From March 31 until April 3, they will be a checking the readiness of the expedition, training at the base camp, making ski trips, testing of equipment, procuring provisions and so on.

On April 4 Kazakhstanis will be divided into two groups. One will carry out scientific research, and the other will go from the island to Barneo ice airfield, from where the main part of the ski expedition to the North Pole will begin.

"The participants will have to overcome ice breaks, ridges, and other obstacles on the road. The Kazakhstanis will be fully equipped with special equipment and necessary provisions. Our goal is to promote Kazakhstan in the international scientific, cultural and humanitarian arenas," Tastanbekov shared.

Members of the expedition will cover around 200 kilometers from Barneo to the Pole on skis. The Kazakhs plan to finish the mission within 7-12 days by crossing 20-25 kilometers every day.

"The first Kazakhstani ski expedition to the North Pole is timed to the 550th anniversary of Kazakh Khanate, the 20th anniversary of Kazakhstan's Constitution, as well as the 70th anniversary of the Victory in the Great Patriotic War," Tastanbekov said.
March 24 2015, 17:33