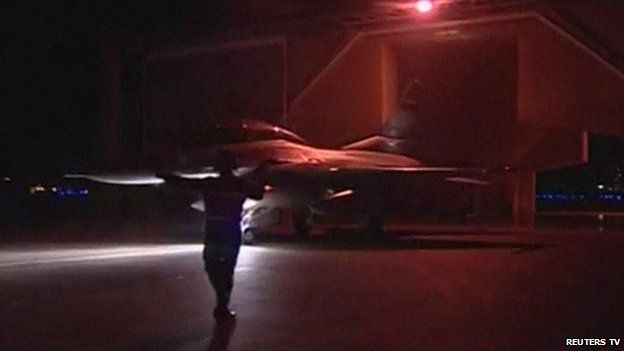 The Egyptian jets attacked targets in Libya at dawn, the military saidEgypt says it has bombed Islamic State targets in Libya, hours after the group published video showing the apparent beheadings of 21 Egyptian Christians.
State TV said the dawn strikes had targeted camps, training sites and weapons storage areas.
It did not give further details but witnesses reported air strikes in the port city of Derna, held by militants, bbc.com reports.
A video emerged on Sunday showing a group wearing orange overalls being forced to the ground and decapitated.
IS militants claim to have carried out several attacks in Libya, which is in effect without a government.
The kidnapped Egyptian workers, all Coptic Christians, were seized in December and January from the coastal town of Sirte in eastern Libya, under the control of Islamist groups.
The video of the beheadings was posted online by Libyan jihadists who pledge loyalty to IS. It was one of the first such videos to come from an IS group outside its core territory in Syria and Iraq.
The killings were described as "barbaric" by al-Azhar, the highly regarded theological institution which is based in Egypt.
Egypt's military said Monday's air strikes were "to avenge the bloodshed and to seek retribution from the killers".
"Let those far and near know that Egyptians have a shield that protects them," it said.
The statement said all planes involved had returned safely.
February 16 2015, 14:59