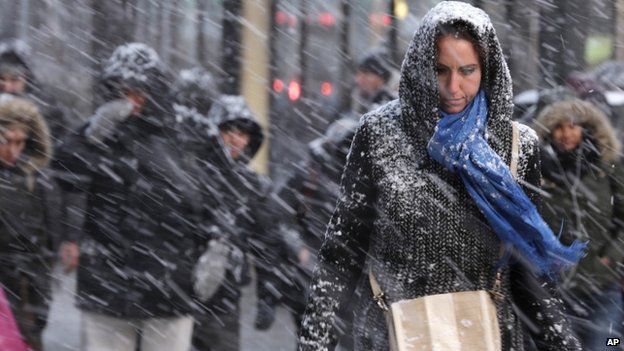 Pedestrians make their way through snow in New York This could be one of the biggest storms in New York City's history, meteorologists warnNew York City, Boston and other areas in the north-eastern US have shut down, with forecasters warning residents to expect "crippling" amounts of snow.
Winter Storm Juno was expected to dump up to 60cm (24in) of snownear New York City, and in Connecticut, Rhode Island, Massachusetts and New Hampshire.
Meteorologists downgraded their initial forecasts, lifting blizzard warnings in New York City and New Jersey.
Some 60 million people may be affected by the shutdown.
Driving bans for all but emergency vehicles are in place in New York and Boston, with subway systems suspended.
An emergency has been declared in the states of New York, New Jersey, Connecticut, Rhode Island, Massachusetts and New Hampshire.
As the weather deteriorated, workers in New York left early and headed for the safety of home, heeding warnings from officials. The subway system has been shut down, for the first time because of snow.
Broadway shows were dark, the neon-lit avenues deserted. It gave a ghostly feel to a city that famously never sleeps.
The storm's effects are being felt way beyond Manhattan, from New Jersey to Maine. Coastal areas such as Cape Cod and Long Island could face flooding and power blackouts. Boston is also in its path.
The Governor of Massachusetts called it "a top five historic storm."
Echoing his words, New York City Mayor Bill de Blasio urged residents to stay out of the way of the 2,300 snowploughs clearing city streets.
"You can't underestimate this storm. What you are going to see in a few hours in something that is going to hit very hard and very fast."
Similar bans for non-emergency vehicles were enacted in Connecticut and Massachusetts.
January 27 2015, 18:03