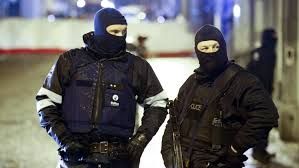 A terror cell on the brink of carrying out an attack was the target of a raid Thursday that left two suspects dead, Belgian authorities said.
A third suspect was injured and taken into custody in the operation at a building in the eastern city of Verviers, prosecutor's spokesman Thierry Werts told cnn reporters.
A senior Belgian counterterrorism official told CNN that the alleged terror cell is believed to have received instructions from ISIS.
Some members of the cell had traveled to Syria and met with ISIS, which plotted the attacks as retaliation for U.S.-led airstrikes in Syria and Iraq, the Belgian source said.
"This was in the framework of an operation looking into an operational cell made up of people, some of whom coming back from Syria," Werts said. "The investigation made it possible to determine that the group was about to carry out major terrorist attacks in Belgium imminently."
The operation, which authorities said was ongoing, added fresh fuel to a fear that's been simmering for months as thousands of Europeans went off to join ISIS fighters in Syria.
January 16 2015, 10:19