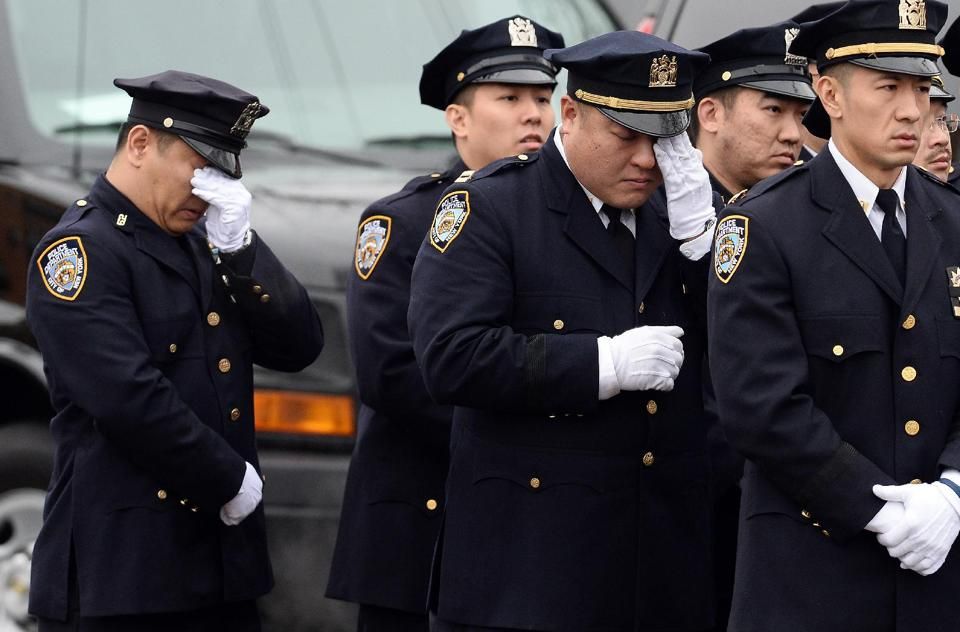 NYPD officers cry during the funeral of their fellow officer Wenjian Liu in Brooklyn on January 4, 2015 (AFP Photo)Thousands of police from across the United States gathered in New York on Sunday to bid farewell to a murdered officer where a small number used the funeral to protest against mayor Bill de Blasio once again.
A sea of blue uniformed officers lined the streets outside a Brooklyn funeral home to honor Wenjian Liu, 32, shot in the head with partner Rafael Ramos, 40, on December 20 as the pair sat in their patrol car, afp.com reports.
The brutal double-murder at the hands of a black gunman claiming to be avenging the deaths of African-Americans during confrontations with police shocked the nation's largest city.
The build-up to Liu's funeral had been dominated by speculation over whether officers would stage a repeat of their protest at Ramos's service last week, when hundreds turned their back on de Blasio.
On Sunday, the vast majority of police outside the Aievoli Funeral Home respected a call not to protest from New York Police Commissioner Bill Bratton.
However, photographs clearly showed dozens of officers again turning away from a giant screen that showed de Blasio addressing mourners.
- A city 'heartbroken' -
"All of our city is heartbroken today," de Blasio said, paying tribute to Liu's "courage, sacrifice and kindness."
The mayor said Liu, an only child who had moved with his parents to New York from China as a child, embodied the fabled American dream.
"A young man who came here from China with his parents at the age of 12 in search of the American dream, in search of the dream that generations have come to New York to find."
Liu's funeral had been delayed so that relatives could arrive from China to pay their respects. His devastated father, wife and cousins paid tribute to the man who used to call himself Joe.
In tears, his young widow Pei Xia Chen, who married Liu just months earlier, said she had lost her "soul mate" and a "wonderful husband."
Liu was an only child and his parents have been left heartbroken by his loss.
His father broke down as he described how his devoted son would telephone after every shift during his seven years in the force to reassure his parents that he was safe.
"You are the best son, you are the best husband," he said. "We are very proud of you, we love you forever," he said.
Bratton paid tribute to Liu's service. "He was, after all, a good man, a humane man. He was a New York City cop," he said.
"We cannot flag. We will move forward, for we carry the possibility of all those dead and all those who have worn the uniform before us," he added.
Liu's casket, wrapped in the NYPD flag, was laid in a hearse by pallbearers, they then folded the flag and handed it to his sobbing widow.
NYPD officers on motorbikes stretching as far as the eye could see drove past, following a flyover from three police helicopters.
FBI director James Comey, the most senior official to attend the funeral, said 115 police officers were killed in the United States last year, "a shocking increase from 2013."
Liu and Ramos were shot dead by Ismaaiyl Brinsley who also shot his ex-girlfriend on December 20 before carrying out the double murder.
Hours before, Brinsley boasted on Instagram that he intended to attack officers and referenced two unarmed black men killed by police.
De Blasio has ridden a firestorm of criticism in the wake of the shootings from political opponents and police union members.
The resentment flared at Ramos's funeral when officers turned their backs as de Blasio spoke.
Bratton had urged officers not to repeat the protest at Liu's service, arguing that it deflected attention away from the focus of the funeral.
"A hero's funeral is about grieving, not grievance," Bratton wrote in a memo to 34,000 New York police officers.
January 5 2015, 11:04