By Ainur Saparova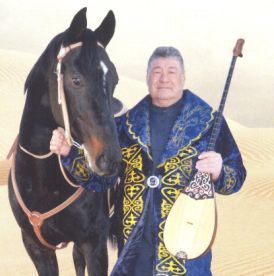 Onerbek ZhanbalaOn December 24, at 7pm (admittance is free) in Drama Theater named after Makhambet Utemisov "Eventing with Onerbek Zhanbala" – a Kazakh cultural event "Ak Zhaik aktanger"will take place.
Onerbek Zhanbala is the man of many talents. The chairman of regional federation of equestrian sport, Onerbek Zhanbala is also known as the person who revives in our region national kinds of sports. He is also considered one of the best dombra players (Kazakh music instrument) and composer.
In the event a famous musician and composer of Kazakhstan - Bekbolat Tleukhanov will participate. Amomg other guests are: the state equestrian sport coach Ramazan Sattibay, famous poets Ulykbek Esdaulet and Akushtap Baktygereeva. The state Academic Orchestra of National Instuments named after Dina Nurpeissova (conductor Orak Zhaurov) will perform Onerbek Zhanbala's music piece "Dunie dauren, duldulim", as well as other pieces. O. Zhanbala will also perform on dombra the famous music pieces (Kui) by Kurmangazy, Kazangap and other great Kazakh kuishi composers.
Those who love Kazakh dombra plyaing are advised not to miss this event!
December 24 2014, 13:20