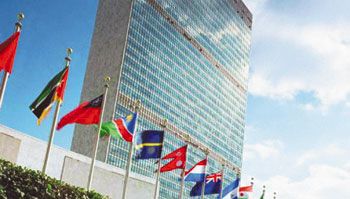 Kazakhstan, which became an independent state in December 1991, is vying to get a non-permanent United Nations Security Council (UNSC) seat.

The Central Asian republic, which joined the UN in 1992, will be contesting for the first time for the two-year non-permanent seat at the UNSC, and will be pitted against Thailand from the Asia-Pacific region for the years 2017 and 2018.

"Since this will be the very first time that Kazakhstan is candidating, it has very good chances of being elected," an Asian diplomat, insisting on remaining anonymous told Bernama Monday night at a national day reception hosted in New York by Kazakhstan's permanent mission to the UN, bernama.com reports.
Kazakhstan's permanent representative to the UN, ambassador Kairat K. Abdrakhmanov, along with his wife and the mission's staff welcomed the large turnout of the diplomatic corps that included not only many Western and East European but also Asian and African diplomats.

In his speech to the guests at the reception, the Kazakhstan ambassador recalled the active involvement of his country in the Sustainable Development Goals and in achieving the Millennium Development Goals.

The issues of non-proliferation, energy, water and food security will be put in the forefront of Kazakhstan's lobbying for a non-permanent UNSC seat for 2017-2018.

The Republic of Kazakhstan became a member of the United Nations on March 2, 1992. Since its UN membership, the country has been sponsoring and co-sponsoring various resolutions related to nuclear disarmament, addressing consequences of the nuclear tests, protection of populations of environmentally vulnerable regions, and the rapprochement between cultures.

Malaysia's recent successful bid - it received an impressive 187 of the 192 votes cast by UN member states -- for the UNSC seat for 2015 and 2016 is also being viewed in UN circles as a "source of inspiration" for some aspiring candidates for a UNSC seat.

Almost at the same time when Malaysian Prime Minister Datuk Seri Najib Tun Razak and Foreign Minister Datuk Seri Anifah Aman were visiting New York in September to lobby for support for Malaysia's bid for the UNSC seat, Kazakhstan's foreign minister Erlan Idrissov, made a working visit to New York from Sept 22 to 27 and attended the 69th General Assembly of the United Nations.

Idrissov held a series of bilateral meetings including with US Secretary of State John Kerry, affirming the importance of the US-Kazakh strategic partnership and discussing ongoing and future areas of cooperation, and also with UN Secretary-General Ban Ki-Moon, when the latter spoke of Kazakhstan's "contribution to regional and global security and development".

Idrissov also took the opportunity to further emphasize its commitment to what he described as the "four key pillars" of its bid for the UNSC seat: food security, water security, energy security and nuclear security.
December 10 2014, 15:35