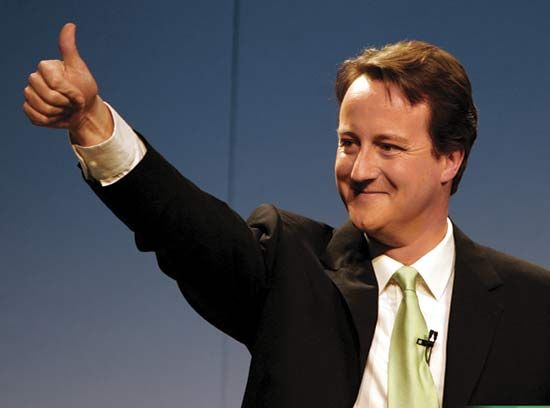 David Cameron: "Our country will only rise if we let our people rise... the most powerful natural resources we have are our people"

David Cameron has promised to improve the UK's position in the "global race" by increasing connections with "the fastest-growing parts of the world".

The prime minister has appointed eight trade envoys to countries including Mexico, Indonesia, South Africa, Morocco, Cambodia and Kazakhstan.

In his Guildhall speech on foreign policy he also urged diplomats to become "economic ambassadors".

He warned against being "squeamish" in seeking defence contracts.

Mr Cameron announced an £8m pilot project to increase the overseas roles of business groups such as chambers of commerce, in 20 "key countries".

This will form part of the government's strategy to help double UK exports to £1 trillion by 2020, he said.
'Valuable'

The prime minister's annual speech, delivered at the Lord Mayor's banquet at Guildhall in London, outlines the government's foreign policy priorities for the year ahead.

Mr Cameron said: "In the past two and a half years I have taken trade missions to Africa, Indonesia, the Gulf, China, India, Russia, Mexico, Brazil, Japan and Malaysia."

"And I know there are some people who say that's not real foreign policy. Or worse still, it's just globe-trotting. But I say - there is a global race out there to win jobs for Britain and I believe in leading from the front. So I make no apology for linking Britain to the fastest-growing parts of the world."

Mr Cameron also said: "There are valuable markets out there that just haven't received the attention from government that they deserve. Places like Mexico, Kuwait, Vietnam, Algeria, Kazakhstan, Indonesia, South Africa and Morocco.

"And we need to do more to get Britain into these markets now. So today I am personally appointing a number of senior parliamentarians as trade envoys. They will engage directly with governments in each of these countries and help open up these crucial markets to more British businesses."

The prime minister warned that businesses can "sink or swim" and that a "more strategic, modern approach" will provide an advantage against competitors.

Moving on to European issues, Mr Cameron promised that a banking union among the eurozone countries will not be allowed to "compromise our fair access to the Single Market".

And the prime minister addressed "squeamish" critics of his trade missions aimed at selling UK defence equipment, saying it has "the most rigorous arms export licensing regime in the whole world - and that is how it will stay".

He added: "But there is a more fundamental point here. Every country in the world has a right to self-defence. And you can not expect every country to be self-sufficient in providing the tanks, ships and planes needed.

"So when Britain has a very strong defence industry, with 300,000 jobs depending on it, it's right that we should be at forefront of this market, supporting British jobs and British allies and that's why last week, in the Gulf, I was pushing for new contracts for Typhoon jets worth billions of pounds and thousands of jobs.

"That's vital new business for Britain. And I make no apology for going out there and trying to help win it."

The eight trade envoys appointed by the prime minister are:

• Baroness Bonham Carter of Yarnbury - to Mexico.

• Baroness Morris of Bolton - to Jordan, Kuwait, Palestinian Territories.

• Lord Puttnam of Queensgate - to Vietnam, Laos and Cambodia.

• Lord Risby of Haverhill - to Algeria.

• Baroness Scotland of Asthal - to South Africa.

• Lord Sharman of Redlynch - to Morocco.

• Charles Hendry MP - to Azerbaijan, Kazakhstan and Turkmenistan.

• Richard Graham MP - to Indonesia
November 26 2012, 14:52