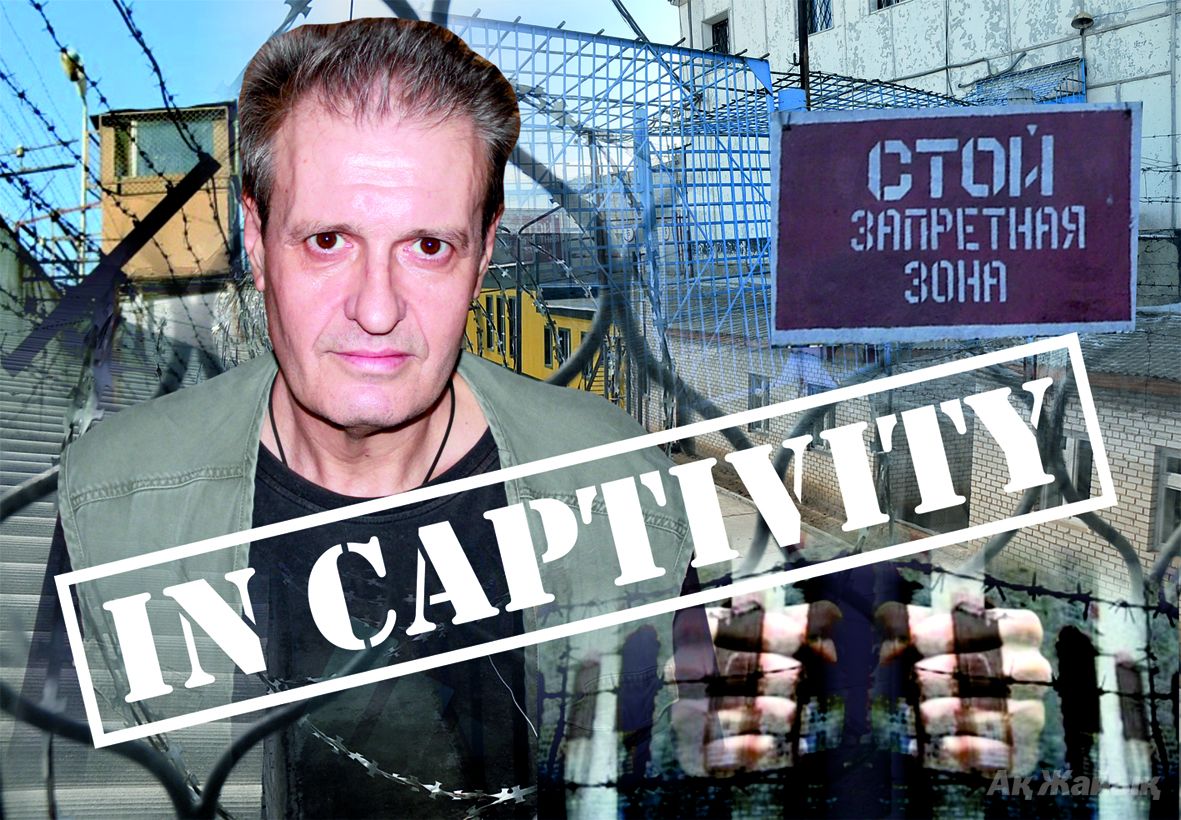 Flavio Sidagni, the ex-financial top manager of Agip, is now serving his sentence in the Atyrau prison #157/1. He was convicted for supplying drugs. 2.5 years ago the AkZhaik newspaper had published about his detention in the Renco hotel (when he in the company of his friends was smoking marijuana) and about the court case. After the long lasting correspondence with the Criminal-Correctional System Committee in Astana I finally obtained the official permission for meeting with 57-year old Flavio. We met in a dark meeting room with a grilled window.
I once lived in Italy and speak some Italian. When this quiet Italian heard me speak his mother tongue he came out of his shell.
Surely, he believes that the punishment is too strong, because he "wasn't distributing the drugs, but was only smoking". But RoK laws are severe. Now he places all his hopes with possible signing of the agreement between Italy and Kazakhstan for transference of sentenced prisoners.
- "I have an impression that originally they were trying to use me as a "commercial tool" with the purpose to get some benefit. But the company said that it will try to help me in every way and hired me a lawyer. They also said they would not pay bribes to buy me out, i.e. do anything illegal. When everybody realized that, I became a sort of "political tool". Because soon Embassy representatives arrived and Prime Ministers of both countries were involved.
I am grateful to all who made attempts to free me, but I am also surprised that my case was taken to such a high political level. It looks as if I am the tool of political manipulation now, because despite of involvement of such high level persons in my case, I am still here.
In December 2011, the Italian Embassy presented to Kazakhstan for review the draft agreement on transference of prisoners. And if Kazakhstan would have agreed to sign it, and I think that it is willing to do so, but the bureaucracy is bad and it takes a long time, then everything would have been solved long time ago."
The Volunteer Convict

- How are you? Can you get necessary medical help here?
- I have a number of problems with my health. First of all, I have a bad back, in vertebrae column I have bad disks that is why I am not walking in a perfect way. I have bad knees and in addition to that I have a high blood pressure and high cholesterol. These are vascular problems. Agip doctors send me medications.
I also have Warthin's tumour and need operation. Sometimes I have bad days and in such acute situations there are no facilities here to help me, although there is a medical point here.
- How is the food here? Do you have an opportunity to cook Italian food?
- I have a little "plitka" (electric hot plate) in the kitchen on which I cook my own meal. My Kazakh friends every week send me "peredachas" (food parcels). I enjoy cooking. It is my only way of escaping, besides reading.
-What are your living conditions? Do you have conditions for maintaining hygiene? Do you watch TV?
- We live in a barrack type house. There are 15 prisoners in our room. We have a kitchen, a dining-room, a TV room, but I cannot enjoy it, because of my limited Russian. We, workers, collected money and bought the washing machine. Considering that we are in prison, the conditions are acceptable and I don't complain.
- How do you cope with the hot weather?
- My Kazakh colleagues made me a present- a split system that is installed in our room.
- Do you have a hobby?
- I like reading. I have lots of books in Italian. My colleagues brought them.
- What's the prison regime? Do you work here?
- I do housekeeping work. I clean the barrack, wash the floors and do the dishes. I also distribute "peredachas" (food parcels) to other prisoners. I've been working here for more than a year and because I didn't have a social security number they haven't paid me the salary. Just recently this issue was resolved and I signed the labour contract. Now I was promised that I will receive my first salary of 25, 000 tenge this month. I have not seen the money yet, but I was promised to be paid...
- What's the attitude of other fellow prisoners to you, as to a foreigner?
- I am a little bit out of the world here because of the language barrier. The only thing is that they treat me in a strange way…. I am 57 years old. To the majority of them I can be a farther and even a grandfather. But they play jokes on me a lot or as they call it "screwing with me". For example, they can hide the book I am reading. And I look for it everywhere. Probably, if I were an elderly Kazakh, they would treat me differently, with more respect. Sometimes I get angry and they get the message, but it only lasts for 5 minutes…
They are the type of people that I am not used to communicate with. And I still don't know how to get along with them.
- How do you communicate? Have you made many friends? Have you learnt the language?
- One hour per day I teach English to two fellow prisoners here. At the start they had some basic knowledge of English and now, after one year of being together, their knowledge has improved a lot and they are able to run a simple conversation.
- How the guards treat you?
- I was never beaten or threatened by the guards. They treat me politely.
- Do you advise your fellow prisoners on their financial problems?
- They all want to have a business together with me when we get out of here. Because the problem of these people, as well as my problem is what to do when we are released..
- Have you met any other expats here?
- No, only the Uzbeks…

Justice: Kazakhstan's and God's

- How do you communicate with your Mother?
- I communicate with my Mom via my wife. We are not allowed to have a telephone. So, she is passing my message to my Mom and then tells me my Mom's message.
- Have you become more religious here in jail?
- I am an atheist and became even a stronger atheist since I am here. Holy justice does not exist in the world. My Mother was never religious, but now she started praying for me.
- Do your friends and colleagues visit you? Or have they forgotten about you?
- Friends and colleagues can't visit me. The only person who is allowed to visit me is my wife. But even for my wife it is not always easy to get permission for visit. Other fellow prisoners can have meetings with their friends and colleagues, but not me. For Kazakhs it is easier to see their friends. Why a Kazakh prisoner can see a Kazakh friend and I can't? If my friends want to see me, they are required to go through a very complicated procedure. The restriction of visit is the only area that I can complain….
- What do you miss most about Italy?
- I lost everything. I lost freedom. I was the person who liked computers. I enjoyed developing complex computer programs. I loved watching TV channels: Discovery, National Geographic. I miss all that.
- What's been the best part and what's been the worst part of your being here?
- They call this place a correctional facility. It is not correcting, but destroying. It is spoiling your life. And I am not a criminal.
In this prison I had 2 different periods. The first 13 months were terrible. I was kept among the criminals by nature, and I was constantly under their threat. They demanded money from me, knowing that I am from Agip and ex-financial manager. So, I was under the constant pressure for supplying money to them. They saw in me "a chicken that lays golden eggs."
After moving to this part of the prison where I can work, my life turned for the better. I am among the people who are not criminals by nature. They made a mistake in their lives and they are paying for what they did...
I am grateful to my Kazakh friends…

- What have you learnt from your 2.5 years here? What do you value the most now?
- I have understood during this period who were my true friends and who were not. Considering my situation, there are people who still continue supporting me. When I was someone, they needed me as their friend, but now, they don't even send me a single greeting. This is a serious lesson for me, but the price is very high.
- What are your feelings towards Kazakhstan?
- For 10 years I was happy to live and work in Kazakhstan. I had a good salary and did a lot to increase local content and train the national employees. But now I saw the other side of Kazakhstan. I do believe that I am paying too much for my mistake. In Italy I would have paid an administrative fine and set free.
I am very grateful to my ex-colleagues who did not forget me in these 28 months and bringing me food parcels every week. They are spending their own money. It is easy to say that you are my friend, but will you spend your money on me? Most of the help comes from my Kazakh friends, rather than Italians. Italians have better salaries. But Kazakhs help more… They are really amazing people!
- What will be the first thing you do when you get out of here?
- I would like to take my Mother, my wife and my adopted child to a very good Italian restaurant with the service of the best Italian sommeliers. I enjoy eating my food with wine. Food without wine is not a food. In Italy it is difficult to find a drunken person in the street. Wine is the part of our culture.
Zeena, next time you are in Italy, go to a wine tour in Toscana and Cheese Fair in Milano. They will offer you more than 50 types of cheese.
To Err is Human….

Flavio's smooth and careful responses give an impression that his life in prison is not that harsh. But his eyes expressed so much tragedy that this person was holding inside.
It seemed that he was trying to leave a good impression and avoid criticizing our penitentiary system. Maybe because he had a slightest hope for getting a pardon soon, the life-changing decision of his destiny.
Garifolla TUREKESHEV, Deputy Head of the Prison # UG 157/1 said to me: "Purely from the human point of view we feel sorry for him. We think that he does not have any complaints towards us. We wish that the decisions about pardoning or his transference will be made very soon, so that he could travel to his home land. He is a very polite and intelligent person. He is badly waiting for the pardon."

PS. During the whole interview Flavio never smiled, so intense and dramatic he looked. When I asked him if I can have a picture with him for our newspaper, he agreed and put his arm around my shoulder in brethren way. Later giving the photos to our web-designer, to my surprise, I saw that on the photo Flavio gave a hardly noticeable smile...
By Zeena URYNBASSAROVA
August 16 2012, 16:59