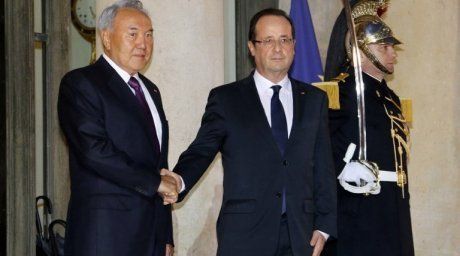 Kazakhstan will be facilitating withdrawal of French troops from Afghanistan, a Tengrinews.kz journalist reports from Paris.

"We have signed a document to facilitate withdrawal of French troops from Afghanistan", President Nazarbayev told journalists following his talks with French President François Hollande November 21.

He also noted that the talks had dwelt on further cooperation of Kazakhstan and France. "We have an agreement on strategic partnership", he said.

President Nazarbayev elaborated that Kazakhstan and France were implementing 27 large-scaled projects.
Kazakhstan is interested in cooperation with France in education, research and higher education, President Nazarbayev's Press Service quotes him as saying.

When closing the talks, President Nazarbayev invited his French counterpart to pay an official visit to Astana.

President Nazarbayev's working visit to France extends for another day, November 22. That is the day for the EXPO-2017 host nation to be announced, with Kazakhstan and Belgium being the two contestants.
November 22 2012, 12:34