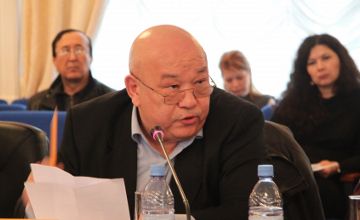 Bulat Kozhakov"I am categorically against a poster with Pushkin and Kurmangazy kissing", - said Bulat Kozhakov, the director of "Kazakhstan Alliance of the Advertising Companies" Association in his interview to journalists today, azh.kz reports referring to infrom.kz.
"I am categorically against this poster and this image. Everyone has the right for his life, but let it be his life. You cannot use images of people who don't give you the permission and preached absolutely other values", - said B. Kozhakov during "round table" discussion of the issues related to legal regulation in the field of external advertising.
In his opinion, it is unethical and absolutely illegal. "Put yourself kissing on the poster. At the end of the day, you can put it on Internet portal, if you wish. But to use an image of another person, not only famous, but even an ordinary one, seems to me unacceptable", - added B. Kozhakov.
To recall, recently, on October 28, a court in Almaty ordered the Havas Worldwide Kazakhstan advertising agency that designed the poster – which shows Kazakh composer Kurmangazy Sagyrbayuly and Russian poet Alexander Pushkin kissing – to pay 34 million tenge ($188,000) to a group of 34 music students and teachers whose only connection to the image is that they study and work at the Kurmangazy Kazakh National Conservatory.
Translated by Zeena Urynbassarova
October 31 2014, 15:17