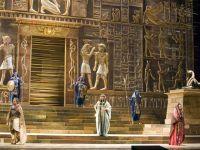 The fur is flying at Milan's La Scala, with the celebrated lyric theatre caught in a cat fight with opera legend Franco Zeffirelli.
The prickly, 91-year-old director has expressed outrage at the way he says one of his "greatest" productions, the 2006 version of Aida, has been flogged off to a theatre in Astana, Kazakhstan, without his say-so.
He said in an open letter that the sale of the rights and props to the Astana theatre had doomed his work to an "infamous and brutal" fate, and he threatened to call in the lawyers. He didn't say why Kazakhs should not be allowed to enjoy his classic production.
The ploy by the Milan opera house was, he said, part of a plan by the institution's managers to airbrush him from Italian opera history.
"I have seen a sort of vendetta on the part of the brainboxes of La Scala who regard me as an artist to forget," Mr Zeffirelli told The Independent.
"We're talking about, in reality, with all due humility, the greatest production of this masterpiece that I've ever brought to the public. They really should have consulted me. After all this time with La Scala, they should have shown more respect. I am seeing my lawyers."
La Scala insisted that the sale to the Kazakh theatre – where Aida debuts on 19 November – has fully protected the rights of Mr Zeffirelli and the costume designer Maurizio Millenotti, both of whom have already been contacted by the Astana opera house to organise their due payments.
La Scala said that the Kazakh institution had even asked Mr Zeffirelli to come over to Astana to advise them. As a result, La Scala chiefs have expressed "bitterness and disbelief" at Mr Zeffirelli's claims; not unlike the bitterness and disbelief shown by the opera house's notoriously bolshie audience, which booed off the sub-par second tenor on the sophomore night of the original production. He had to be replaced at the last minute by his substitute in jeans.
But there's no doubting the huge success of the production, which has proven a money-spinner for La Scala with 47 performances since 2006. This week's developments suggest, though, that the long and fruitful collaboration between the celebrated opera house and the great director, which began in 1953 with Mr Zeffirelli designing costumes, is now at an end, La Stampa newspaper said.
Mr Zeffirelli is also celebrated for his film career. His leading achievements in cinema include his 1968 version of Romeo and Juliet, for which he was nominated for an Oscar, and the previous year's The Taming of the Shrew, starring Elizabeth Taylor and Richard Burton.
October 30 2014, 02:53